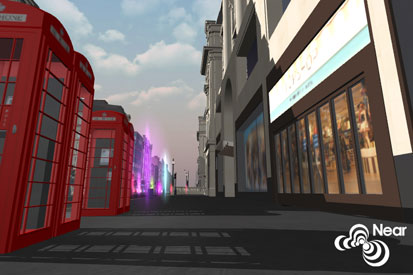 The two UK companies have received unspecified amounts of funding from one of the UK's largest digital investment firms.
Ariadne's chief executive Julie Meyer said that the company became convinced of the potential of virtual worlds only where the user has a purpose, rather than several existing virtual worlds where the experience is casual.
In NearGlobal the purpose is shopping. The virtual world creates London (and other world cities) in 3D and morphs them into an interactive experience. People can shop, play and explore through NearGlobal which is is due to launch before Christmas.
Ariadne has brought WGSN founder Marc Worth on board NearGlobal to invest and advise as non-executive chairman.
RealLife is more akin to a MMOG (massive multiplayer online game) and is also based on a virtual London. The purpose for users in RealLife is to enhance their careeers through job simulations. RealLife is due to launch next month and the first iteration will let users become brokers who trade on global markets.
The big name in virtual worlds so far is the much-hyped Second Life, which was subject to a lot of attention before quietly getting on with business. Since then PlayStation Home has launched, appealing to gamers and advertisers looking to build affinity with their brands.