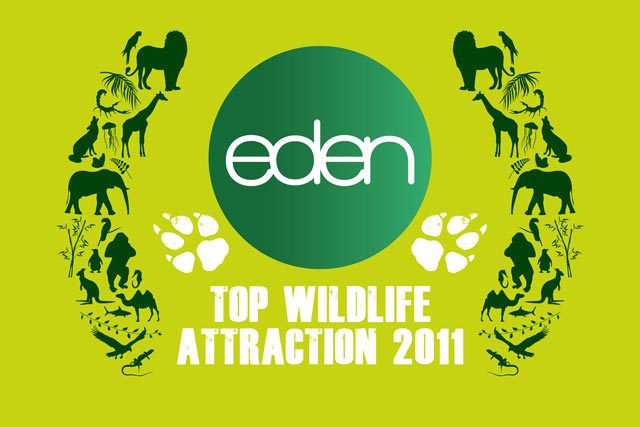 The campaign, devised by promotions and partnerships agency Mediator, aims to engage with families interested in natural history and wildlife, through a partnership with 20 attractions around the country.
The search to find the top attraction will be promoted at each of the participating venues from Monday (27 June) through posters, postcards, stickers on guide books and maps, and an A6 children's comic designed to link to Eden programming.
The campaign will be promoted on air on Eden and viewers will be directed to cast their vote for their favourite attraction through a special hub on the Eden website.
The number of participating attractions has increased from nine in 2010, to 20 this year, and includes The Blue Planet Aquarium, Belfast Zoo, Birmingham Sealife Centre, West Midlands Safari Park, Paignton Zoo and Woburn Safari Park.
Annabel Porter, marketing manager for Eden, said: "'Eden's Top Wildlife Attraction' as a campaign is a proven tool for the channel in driving awareness for the brand, as well as programming."
In addition to the top prize of £3,000 of holiday vouchers, Eden is also offering a runner-up prize of an "Animal Experience Day," such as the chance to be a zoo keeper for a day, feed penguins, or dive with sharks.
The promotional and on-air presence will be supported by a digital campaign using the online platforms, such as website, enewsletters and social media, of both Eden and the 20 attractions.
Caroline Brosnan, senior account director at Mediator, said: "This campaign reinforces Eden's position as an authority voice in the natural world, while also engaging with families in a relevant environment.
"By integrating a public vote, attractions are also keen to get involved and really support the campaign."
Earlier this month, UKTV announced it is to expand its lifestyle channel, Really, to the 19 million households with Freeview. The digital TV broadcaster will be backing the initiative with a seven-figure marketing campaign.