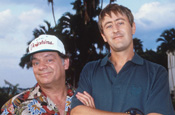 The broadcaster, a joint venture between the BBC and Virgin Media, plans to launch the as-yet-unnamed channel in October. It will not join successful lads' channel Dave on the Freeview platform.
Julia Jordan, UKTV executive director of business and operations, said: "We are first and foremost a pay-channel business."
While Gold will move away from retro content to be a comedy channel, UKTV said the new service will complement Gold and replace Gold+1 in the electronic programme guides.
UKTV Gold+1 currently attracts about five million viewers a week, in addition to 6.5 million for the core channel. UKTV's sales house, IDS, admitted the move will "obviously have an effect on Gold's figures, but the gains from the new channel will massively outweigh that".
UKTV said Gold averaged a 1.2% viewing share, but year-on-year share in volume is down 9%. Jordan said: "We were increasingly finding with Gold that the contemporary content was not resonating with audiences. This sort of content on the new channel will allow Gold to be what it is, without stretching it and shoe-horning in new content."
A Richard and Judy prime-time show will be the cornerstone of the new channel's peak-time weekday schedule. It will also air recent BBC series, including Torchwood, Mistresses and Lark Rise to Candleford, movies and new commissions.
UKTV refused to reveal its exact investment, but said commissioning spend for the channels was up 30% for 2009.
The new channel would have a "distinctive name", according to Jordan, but she ruled out repeating the forename formula used by Dave. UKTV is rebranding the rest of its portfolio, starting with the entertainment channels, before moving on to factual and lifestyle next year.
Gold will retain its name but will get a new look, while UKTV Drama is to have a new brand reflecting its new crime focus.
Jordan said audiences wanted to relate more closely to the channel brands. She added: "There will still be UKTV connections, but the channel brands will stand up in their own right."
WHAT THE TV SECTOR SAYS ...
- Paul Rowlinson, investment director AV, MindShare
"Richard and Judy performed well on Channel 4 for young mums and older daytime audiences, and Torchwood and contemporary drama will be good for attracting younger audiences. Gold is one of the original multichannel stations and it lost its lustre amid the competition, partly as it is not on Freeview. Gold's adult impacts are down 10% year on year - not great, but not a disaster."
- James Wildman, managing director IDS, UKTV's ad sales house
"These changes are fantastic for us. Rebranding will energise a lot of these channels. They are very complementary from an advertising perspective. There'll be more inventory, but it's also about audience growth and dynamism. Most broadcasters' core channels are declining, so to be at the other end of the spectrum, with long-term growth expected, is excellent."
- Richard Oliver, managing partner, Universal McCann
"These changes will appeal to advertisers. Dave's rebrand had a big effect on its audience figures, and by giving its channels more personality, UKTV can be more profitable, driving audiences and, therefore, revenue. Whether the tactic is scalable across the portfolio is unproven, but a name such as Alibi for a crime drama channel is less dry than UKTV Drama."
- Neil Johnson, head of TV, OMD
"You can only really judge things based on their recent movements. Giving Dave a funky name certainly worked and if UKTV can replicate that across the channels, it is bound to be positive."