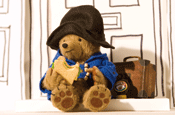 Paddington has featured in numerous TV and promotional campaigns for Marmite following the characters adoption by the brand in 2007. It is currently running an on-pack promotion offering consumers the chance to get obtain a Paddington Bear toy.

According to insiders close to the brand the current deal between Marmite and Paddington Bear license holder Chorion runs out in the first half of this year and will not be renewed.
Marmite marketing manager Noam Buchalter said: "It was always intended that Paddington Bear was just trying Marmite in his sandwiches, for a change. Whilst he really enjoyed it, he will be going back to his traditional favourite, marmalade, in the future, and Marmite is moving on to new things!
"As with any campaign, the Paddington Bear campaign had a carefully and strategically planned beginning, middle and end, and Marmite will be looking to move forwards with new creative over the coming year".
The original Marmite TV ad featuring Paddington had the bear switching allegance from marmalade to the yeast extract. The last ad, which ran late last year, featured the bear at a party giving people Marmite from a squeezy bottle.

In addition to the promotional and TV campaigns featuring Paddington, the character is also featured the a product for sale in its online 'Marmite Shop'.

The Marmite Shop, which launched late last year, also sells items as diverse Marmite-branded cycling kit, toasters and Andy Warhol-style prints of Marmite jars.