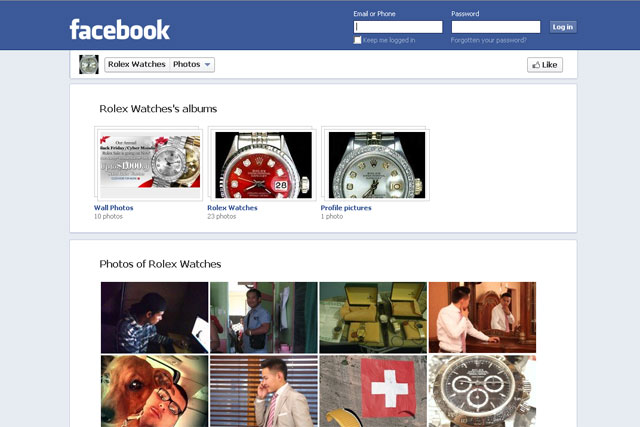 The iProspect Engagement Index, shared exclusively with Marketing, shows the level to which people interact with brands on Facebook.
It combines the number of "likes" a brand has, with data from the "people talking about this" metric, introduced by Facebook earlier this year.
The index's first results, covering February, showed that PG Tips achieved the highest engagement rate with a 16.3% score.
PG Tips scored 7.7% in May, while Rolex managed 10.8%, the highest among the 250 brands measured for the research, thanks to the unofficial Rolex Watches page.
This indicates that about one in 10 fans had actively responded to a page in the previous seven days, either by liking, commenting, posting, responding to polls, or sending RSVPs.
Coming in a close second was Thomas Cook, with an engagement level of 10.1%, followed by Warburtons at 9.1% and Bosch at 8.6%.
Other brands in the top 10 include the Royal Albert Hall, Stella Artois, O2, Audi and Bentley.
Phillip Dyte, paid social media planner, at iProspect, said that should Rolex move into the social space, it would have a "ready made audience" for it.
He said: "The top 10 shows that marketers are yet to master consistent engagement of their audiences. If brands continue to use social media in a mainly event-driven way, switching on and off per campaign, then it is likely that this will continue."
The agency attributed PG Tips' high engagement rate in February to a Valentine's Day campaign it ran on the social network. Dyte said that in order for brands to keep engagement levels consistent, they should be adopting an "always on" strategy.
Top UK Brand pages (10K+ Fans)
Fans
Engagement (%)
Rolex
110,426
10.8%
Thomas Cook
50,992
10.1%
Warburtons
17,987
9.1%
Bosch
43,681
8.6%
Royal Albert Hall
38,723
8.0%
Stella Artois
212,445
7.9%
PG Tips
103,209
7.7%
O2
444,559
7.5%
Audi
97,823
7.3%
Bentley Motors
236,652
7.1%
Source: iProspect