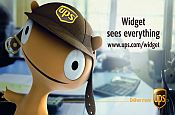 The UPS Widget, a small animated character and downloadable desktop application, lets customers track packages from their computers well as link to other UPS services directly from their desktop.
Launched this week, and being promoted via an integrated print, outdoor, online and DM campaign, the UPS Widget can be downloaded from a 3D interactive web site www.ups.com/widget.
"We wanted to do more than just a traditional advertising campaign. We wanted to embrace technology too and today's climate is about accessibility and options. The desktop application integrates a piece of UPS's XML tracking functionality so customers have convenient access to tracking and other UPS services directly from their desk top," said John Wheeler, director of communications, UPS Europe.
"With this campaign, they not only learn more about how UPS can help via the advertising and micro site, they also have something they can download, keep and use."
The concept was built around engaging and drawing customer attention to UPS's capabilities and worldwide coverage. The Widget was designed to target decision makers responsible for shipping among many other tasks.
Mark Fallows, McCann's director of digital content, added: "Creating a technology solution alone was not enough, we needed to inject humanity and brand personality into the application and offer content that satisfied a real customer need."
The campaign will run in UK, France and Germany.