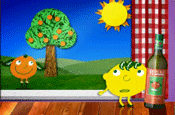 VBS, the sales house for MTV, VH1, Nickelodeon and Paramount, created and planned the ad.

The campaign will market the product as an up-market alternative to standard fruit juice drinks.

It has been created as part of VBS's Force For Good initiative, which offers to match advertising spend for organisations whose products or services promote social good.

Nick Bampton, managing director of VBS, said: "Rocks Organic offers a natural synergy with the Force For Good premise - that advertising can be used to promote societal change for the better."