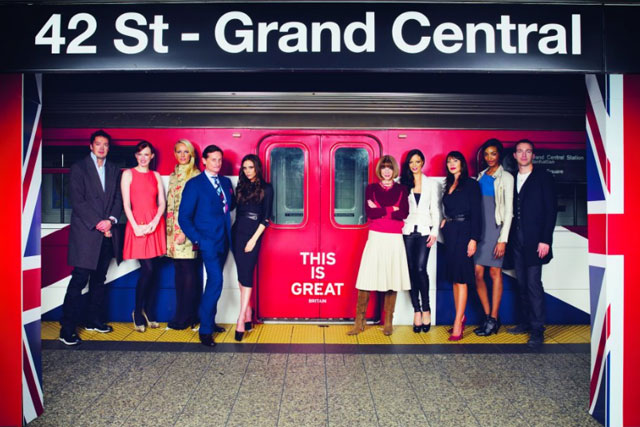 The fashion designer and former Spice Girl will shoot a short film in support of the 'Great' campaign. The film will also feature one of her designs, which are handmade in the UK.
Beckham's involvement in the campaign was unveiled at the launch of a 'Great' branded subway train at New York's Grand Central Station as part of New York Fashion Week.
She was joined by British luminaries of the fashion industry, including Vogue editor-in-chief Anna Wintour and supermodel Jourdan Dunn.
Prime minister David Cameron said: "British fashion is a hugely important global industry and our designers have the talent, creativity and skills to rival anywhere in the world.
"Contributing over £20bn to the British economy each year, our industry inspires."
The Government is splashing out £25m on the 'Great' campaign, which will comprise TV, outdoor and digital executions addressing themes including culture, countryside, heritage, music and sport.
At a time of widespread Government cuts, Jeremy Hunt, secretary of state for the Department of Culture, Media, Sport and the Olympics, is hoping the campaign will boost visitor numbers by 4.6 million across the four years and create 60,000 jobs.
The campaign will run in 14 cities worldwide and will seek to take advantage of Britain's high profile this year as a result of the Diamond Jubilee and the Olympic and Paralympic Games.
Follow Matthew Chapman at @mattchapmanUK