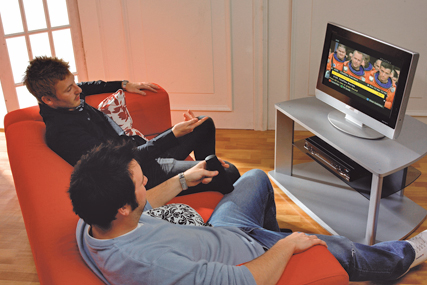 Far from being niche, VoD is a channel in its own terms
With nearly a third of internet-equipped households tuning in, video-on-demand (VoD) has now become a mainstream media channel.
In order to capitalise on the opportunities it offers, UM London created VoDio (video-on-demand investment optimiser) - a bespoke planning and investment tool for VoD – based on extensive research to understand how planners can get the best out of the platform.
Why?
VoD offers brands a tangible opportunity to communicate with a whole spectrum of target groups. And as new players like Google TV enter the market and greater back catalogues of programming are made available online, content consumption via VoD platforms looks set to grow & grow.
Consumers themselves are also changing their demands and moving away from more traditional TV platforms. Sky+ may not have brought about the full scale destruction of the TV industry that was initially predicted, but it has put consumers in control – a place they now expect to be. And the massive marketing push by BBC iPlayer has taught us what on-demand really can offer. Both have redefined consumer expectations as they seek out the content they want to watch.
Many forces will shape the future of video-on-demand. The iPad and other similar devices will almost certainly elevate the portable VoD viewing experience to a whole new level. Our challenge is how best to integrate VoD into the communications planning mix in order to maximise its potential for advertisers.
The research
Powered by exclusive research, VoDio answers key questions on VoD:
Where, when & how consumers are consuming VoD?
When planning campaigns, what reach & frequency will VoD deliver over traditional TV and multi-media schedules?
How VoD delivers cost efficiencies over traditional TV?
To develop the research and build the tool, UM commissioned a large-scale research study. We interviewed consumers on their use of VoD - 1,000 VoD viewers were asked to record their consumption of VoD over two week period via a time diary, as well as usage and attitudes towards video-on-demand. UM used its own proprietary Curiosity Panel which consists of 10,000 UK adults aged 16+. Respondents are already extensively pre-profiled on their lifestyle, lifestage, media consumption and demographics.
The results


The highest viewing figures were recorded amongst C2DEs socio-economic group and 16-34 year olds. However, UM recorded significant viewing across all audiences, including 55+s - who may be considered less traditional VoD viewers.
BBC iPlayer came out as a driving force in VoD uptake – with the majority of viewing taking place via a laptop or PC. The influence it has exerted in educating consumers in how to use VoD is now spilling over into viewing figures for commercial platforms.


Total reach by player



But TV is increasingly used to access VoD, as well as less traditional platforms such as mobile. Nearly half (46%) of 16-34 year olds have accessed VoD content outside their own home – 5% whilst travelling and 14% at work.
Consuming VoD content was traditionally seen as a solus activity where viewers were catching up with missed programmes. However, UM's research indicated that VoD is starting to move outside of solus catch-up viewing and becoming a much more sociable and interactive platform. Nearly half of 16-34 year olds claim to have watched programmes with others, while 19% said they were communicating via Instant Messenger whilst viewing.
Entertainment is the content strand that records the most consumption, however, both drama and documentary are also proving surprising popular, followed by comedy.
Video-on-demand delivery platforms
Conclusion
Far from being a niche media, VoD is a channel in its own terms. We found that for some audiences, VoD has the same reach potential as a typical cinema campaign over a four week period - around 17%.
UM London