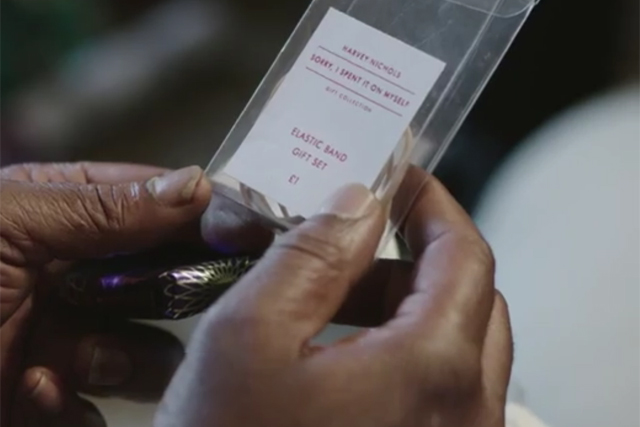 Like those generic Christmas cards you receive with pictures of Robins and snow-capped trees on them, it feels like once you have seen one mawkish festive ad you have seen them all.
So you have to tip your hat to Harvey Nichols for coming up with a new campaign that really stands out from the crowd.
Rather than the usual Christmas clichés, it focuses on a rather different message, inviting shoppers to abandon thoughtful giving and spend as much as possible on themselves this Christmas.
After all, Xmas is a time for giving to your loved ones – and who do we love more than ourselves?
Of course, you have to give your family and friends something, so to help the upmarket retailer has even released a gift collection called 'Sorry, I Spent It On Myself' that includes items such as water-resistant sink plugs for £1.13 and 100% real-wood toothpicks for 47p.
Not exactly filled with the Christmas spirit, admittedly, but after a diet of sugary festive fare, it's a welcome relief.
Of course, it's not the first time the retailer has come up with an alternative Christmas message. In previous years, campaigns such as "Avoid A Same Dress Disaster" and "Ever Faced The Walk Of Shame" gave viewers a very different side to the holiday season.
Both campaigns attracted a lot of interest online – and there is every reason to think this campaign will do the same.
It's very funny, for starters. In fact, they should be handing out Oscars to some of the actors for their comedy performances.
Make people laugh and they will not only share an ad with their friends and family, but with humour the second best emotion at driving brand recall, they will most likely remember the brand for years to come.
However, the most successful campaigns rely on more than one emotion to drive success and this ad is a bit of a one-trick pony, eschewing the traditional feelings of warmth and nostalgia that a lot of other Xmas ads employ.
That means that if someone does not find the ad funny or finds the message it delivers as festive as a piece of coal in your stocking on Christmas Day, they won't be compelled to share it.
After all, Christmas is a time when we tend to splash out. After months of looking after the pennies, the holiday season is a time when we think more with our hearts than our heads in the hope of making things special for our families.