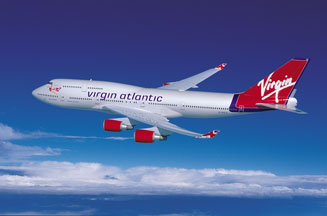 The flight will set off from Heathrow Terminal 3 with a number of passengers from the carrier's inaugural flight, including Sir Richard Branson, former cricketer Sir Ian Botham and pantomime star Christopher Biggins. Also on board the plane, named 'Birthday Girl', was fashion designer Vivienne Westwood and international cricketer Kevin Pietersen.
Virgin Atlantic will also re-run its 25th birthday TV, which shows a glamourous airline crew walking through an airport in 1984. The 90-second ad will run across all ITV, Channel 4, Five, Virgin TV and Sky TV channels at 10:10pm this evening.
Elsewhere, Virgin Atlantic has announced plans to enable passengers to send and receive emails and texts on its flights on its new Airbus A330-300 aircraft, due for roll-out in 2011. Seats will also be fitted with an entertainment hub, including USB ports and power sockets in Upper Class and Premium Economy cabins.