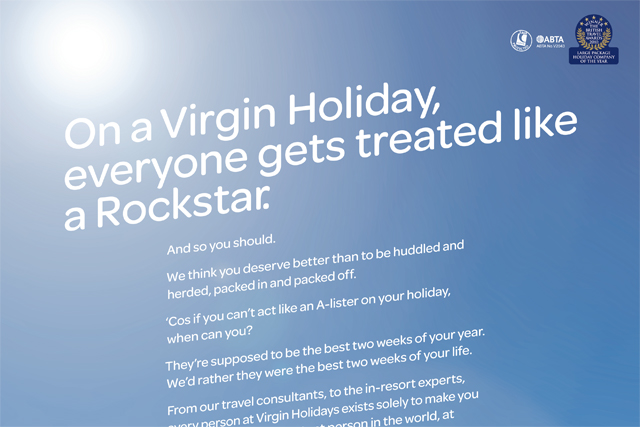 The campaign, created by Dare and Elvis, sees the brand's Rockstar Service manifesto appear in press ads, supported by PR, new online activity, a 60-second radio ad voiced by actor John Sim and the return of last year's TV spot featuring fictional band, the Danke Schöns.
The campaign runs for four weeks, initially pushing the brand manifesto, and moves into price-led advertising during the last two weeks.
Marketing director Andrew Shelton told Marketing that the launch of the manifesto is an opportunity for Virgin Holidays to be "very explicit" about what the brand provides to consumers.
He said: "The long-haul market is not growing at the moment, so it is critical that we shout very loudly as a business about what we stand for, which is what the Rockstar Service campaign is all about."
The manifesto states that "every person at Virgin Holidays exists solely to make you feel like the most important person in the world", while touting the brand's promise to treat consumers as 'A-listers'.
Shelton said: "We're not the cheapest on the market, but the price supports the Rockstar brand positioning.
"This campaign is explicit about telling consumers that a Rockstar Service, such as access to Virgin lounges, a concierge and full ATOL protection, is what they should expect when they go on holiday," he added.
Virgin Holidays began its Rockstar Service drive last May, introducing faux band the Danke Schöns to emphasise the quality of its customer care.