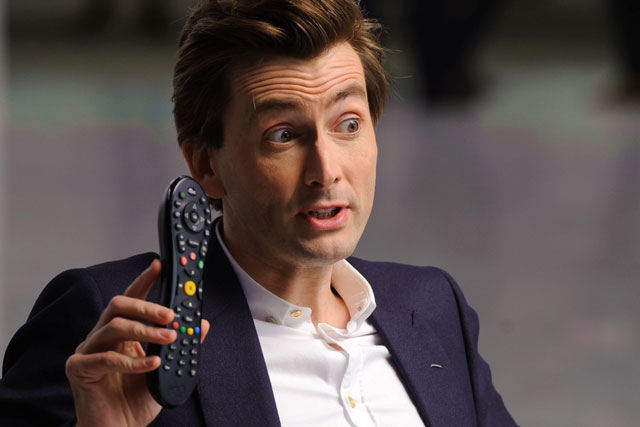 Virgin Media's total revenue rose from £982.3m to £1,006.2m in the three months to 31 March, compared to the same period last year.
The company said that revenues from its business division, which provides a variety of business services from public sector SMEs, grew 7.1% to £170m, while its mobile revenue is up 1.2% to £139m.
Virgin Media stated last quarter that it would be increasing its marketing spend by 50% for the first quarter of 2012. It has since launched two major campaigns, to promote its TiVo service, featuring 'Doctor Who' actor David Tenant, and to promote its superfast broadband, using sprinter Usain Bolt.
This has caused the company's operating cash flow to remain flat at £376m – which it had predicted – due to this phasing of its marketing spend.
Virgin Media's TiVo customer base increased by 242,000 to 677,100, which has helped to grow the total paying TV consumer base by 50,600 for the three months.
The company's superfast broadband base, which gives consumers download speeds of 30Mb and above, increased by 146,700 to 843,600. It now makes up 20% of the total cable broadband base.
Virgin Media's full-year results for 2011 recorded an annual income of £76m on revenues that were up 3% year on year to £4bn, compared to losses of £141m in 2010 and £358m in 2009.
Neil Berkett, chief executive of Virgin Media, said: "Demand for superfast broadband and TiVo, the UK's first mass-market ,connected-TV service, continued to gather momentum.
"We have seen an increase in greater customer loyalty, with our best subscriber retention for two years and this has reinforced our confidence that people increasingly appreciate the value of a genuinely next-generation digital experience.
"In addition, a growing base of mobile contract subscribers, together with strong revenues in Virgin Media Business, showed again that we have multiple sources of revenue growth.
"Over the remainder of 2012, we expect continued steady progress across the company, which, combined with the underlying resilience of our business model, will translate into strong cash flow and shareholder returns."
Follow Loulla-Mae Eleftheriou-Smith on Twitter @LoullaMae_ES