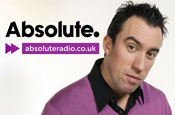 Announced with a medley of classic rock and pop music on Christian O'Connell's Breakfast Show, the relaunch follows the station's £53.2m acquisition by Times of India owner TIML Golden Square in May.
Absolute Radio will continue to be based in London's Golden Square and will broadcast across all Virgin Radio's old frequencies, including medium wave and DAB nationwide, and on 105.8 FM in the capital.
The rebranded station is also available on Virgin Media (channel 915), Freeview (channel 727), Tiscali TV (channel 620) and Sky Digital (channel 0107 National/0202 London) and the free-to-air service Freesat (channel 724). Its new Indian owners will be able to listen to the radio station via satellite, cable or through the internet.
The rebrand has been supported by a £5m advertising campaign, which plays off its new slogan "Discover real music". The marketing push has been handled by its newly appointed creative agency, Albion.
Sony Ericsson is the exclusive launch sponsor for today, but the station claims to be "essentially commercial free". It is thought to be the first time an advertiser has bought 24 hours' worth of inventory to support a broadcaster's launch. Sony Ericsson's media agency is Mediaedge:cia, while McCann Erickson handles its advertising.
Existing sponsors such as Sky will still be prominent on the station, but there will be no spot ads throughout the day.
The Virgin Radio brand will continue to broadcast in other markets around the world under the control of Sir Richard Branson's company. Last month, Virgin Radio made its first foray into North America by re-branding Mix 99.9 in Toronto as Virgin Radio 999. Virgin Radio operations also exist in France and Italy.