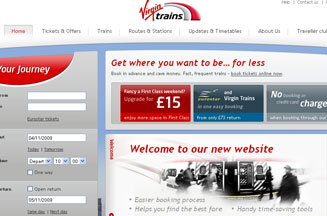 Supporting Virgin Trains' re-launch this summer with a campaign by MCBD and Elvis, the revamped site launches on 11 November. It aims to position Virgin Trains as facilitator of 'personal journeys' and its new Virgin High Frequency service.
The overhauled website, by Elvis, includes new features such as an interactive route map linked to station information, a tool that generates custom timetables and a news blog section. It also encompasses over 100 new images which champion the brand experience.
Website functionality has also been enhanced to work in conjunction with National Rail Enquiries, The Trainline and Eurostar.
Virgin Trains' relaunch followed the £9bn upgrade of the West Coast Mainline, which meant faster trains and greatly improved frequencies generating an additional 13m seats a year. Virgin Trains also introduced enhanced mobile-connectivity, on-board Wi-Fi, e-ticketing, better lounges and a new First Class offering.