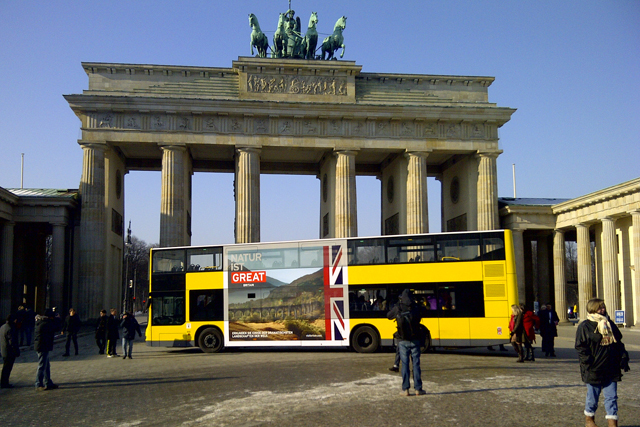 The government may be cutting back at home, but it's still spending abroad. Jeremy Hunt, secretary of state for the Department of Culture, Media, Sport and the Olympics (DCMS), unveiled VisitBritain's biggest ever global marketing campaign last week. At the launch, he said: 'We should be cutting back on marketing, but we are turning that on its head, ignoring the naysayers and putting (in) additional funds.'
Speaking to Marketing, Hunt said he hoped the £25m 'Great' initiative, which will run in 14 cities worldwide until March 2013, would be a 'campaign marketers will be proud of'.
'We are lucky in this country to have some of the finest creative minds on the planet on tap,' he added. 'London and New York are the two global capitals of the marketing industry.'
Heightened ambitions
The DCMS has ramped up its 'Great' campaign, introduced by Prime Minister David Cameron last September, to drive business investment and student numbers alongside tourism. The extra £25m that the government is putting into the activity is in addition to VisitBritain's four-year, £100m 'You're invited' marketing programme, with both executions now rolling into one.
The campaign breaks in New York this week, to coincide with Fashion Week, before rolling out to 13 more cities in nine countries. Hunt cannot resist pointing out one of the cheekier locations: a plug for the British Museum will be outside Paris' Musee du Louvre.
The campaign encompasses TV, outdoor and digital executions addressing five themes: culture, countryside, heritage, music and sport. The aim is to boost visitor numbers by 4.6m and visitor spend by £2.3bn over the next four years. VisitBritain claims it will help to create 60,000 jobs.
A deal with Yahoo! is intended - or 'guaranteed', according to VisitBritain chief executive Sandie Dawe - to drive at least 5m views of the tourism body's content through the Yahoo! network, and more than 3.5m visits to VisitBritain's own platforms.
While consumers are on the countdown to the Olympics, like any other marketing department, VisitBritain is on to the next campaign. Its challenge will be to ensure tourists keep coming back, rather than look to the next country 'of the moment'.
Dawe remains hopeful, however. 'If we can prove the campaign is working - we have to be able to turn this work into real visits - then there might be another pot of money next year to do some more.'
Q&A: SANDIE DAWE, CHIEF EXECUTIVE, VISITBRITAIN
Once the Olympics is over, how do you plan to keep visitors coming to the UK and compete with other worldwide destinations?
We are conscious that we will get a lot of attention this year, but the spotlight moves on. We know we have to be creative about how we draw people's attention to what we have. We will let Brazil make the most of what it's doing for its World Cup and Olympics, while we will move on to our next proposition and iteration of this campaign.
Does the 'Great' campaign have longevity? If so, how does it fit into your marketing plans post-2012?
We are now in the second year of our four-year, £100m marketing programme, and plan to hang on to the Great campaign for as long as we think is right. We will plan ahead with this new campaign as far as we have the funding.
For the moment, we are concentrating on the immediate horizon, which means promoting what visitors find appealing about Britain. We will never abandon the themes of culture, heritage, countryside, music and sport, as these are the reasons people come here.
What is your main target audience for this global campaign?
Affluent, urban, aspirational professionals who want something different. We're a long-haul destination from China and Brazil, so they have to be able to afford to get here.
How and why did you decide on certain countries and cities in which to launch the 'Great' campaign?
It was a case of asking 'where will we get the best bang for our buck?' France, Germany and the US are at the top of the list of the markets that deliver the most volume and value now.
But it's the BRIC countries where we need to boost our image. In China and India, they don't know much about our culture or modern Britain. In terms of potential, we wanted to go into these markets, focusing on urban clusters and cities. We will probably get more than 1m visitors from Australia next year; from a long-haul destination with a population of 22m, that is fantastic.