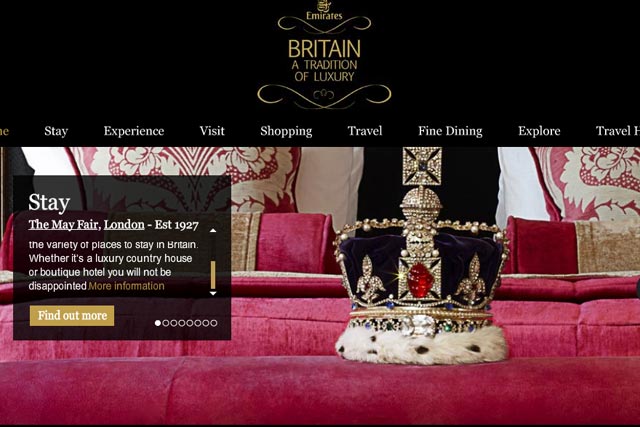 The jointly funded campaign is called 'Britain. A tradition of Luxury' and has been created by integrated agency Albion.
It features press and online activity, supported by email, direct marketing and a campaign microsite, www.visitbritain.com/sg/emirates. It will run in China, India, UAE and Singapore.
The campaign targets 35- to 55-year-old international travellers. Its aim is to exploit "high-quality service" and "authentic, one-off experiences", which are available in the UK.
The campaign uses the theme of tradition within British culture to showcase high-end tourist destinations such as The May Fair, London, golf courses in St Andrews, Scotland, and Bodysgallen Hall, in Llandudno, Wales, the Grade 1 listed building.
Laurence Bresh, director of marketing, VisitBritain, said: "I'm delighted to announce Emirates as the lead partner in one of our most sought after campaigns of the year. It's a great match – Emirates has perfected the art of luxury over many years, as has Britain over the centuries."
"Whether these visitors have a passion for rubbing shoulders with the British elite at Royal Ascot, shopping at Harrods, taking a journey on the Orient-Express or a stay at the May Fair London, we have many luxurious experiences just waiting to be enjoyed."
Last week, VisitBritain launched a Facebook app for Generation Y travellers, which features a personal treasure hunt that encourages users to visit the UK.