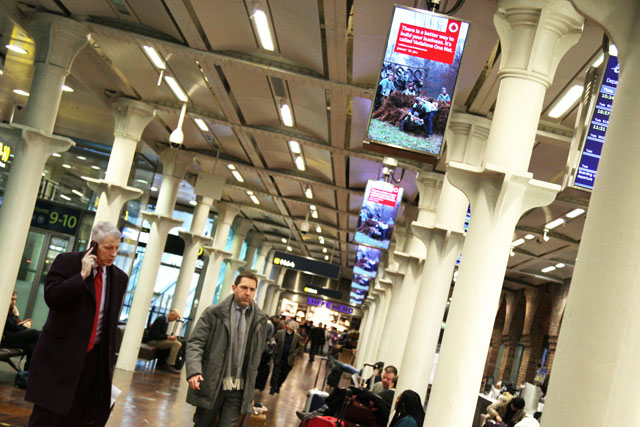 Four different versions of the ad are running across the 32 40-inch screens in the departures area of the terminal, with the tagline, "There is a better way to build your business. It's called Vodafone One Net".
The campaign was planned and bought by Omnicom media agency OMD and WPP out-of-home agency Kinetic. The creative work is by Rainey Kelly Campbell Roalfe / Y&R.
At RKCR/Y&R the art director was Martin Casson and the copywriter was Martin Davey. Photography was by David Stewart.
A spokeswoman for JCDecaux said the screens were located in prominent locations and were positioned alongside the departures information boards to ensure maximum visibility.
The screens were added to the terminal as part of JCDecaux Airport's new contract to sell advertising at the Eurostar terminal and will be followed by new screens in the arrivals area next week.
Danielle Crook, director of brand marketing for Vodafone UK, said: "Eurostar is a good fit for our latest business campaign, as it reaches businesses in a tightly targeted environment.
"The digital screens allow for multiple creative executions and work well with our playful campaign that highlights the benefits of Vodafone's innovative One Net service to businesses."
According to figures from JCDecaux, 8.8 million passengers travelled on Eurostar in 2011, with a third of them business travellers.
Alan Sullivan, sales director of JCDecaux Airport, said: "As a major international gateway, Eurostar's digital screens offer a powerful communications channel for clients to reach passengers during this key Olympic year and beyond."
Follow Maisie McCabe on Twitter @MaisieMcCabe