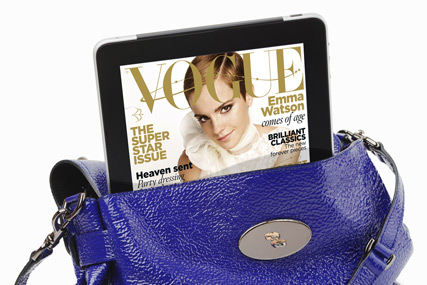 From 6 November, Vogue, which has existed in print form for 94 years, will be available for £3.99 per month on the iPad in the UK. This compares with the £4 cover price for the printed copy.
Advertisers who have a presence in the printed December issue will all appear on the app, which this month also includes limited rich media spots from Burberry, Chanel, Fendi, Gucci, Louis Vuitton, Parfums Christian Dior, Ralph Lauren and Tiffany.
The December issue on the app will also include extra content not available in print such as footage of Emma Watson being interviewed between takes for her Vogue cover shoot.
Alexandra Shulman, editor of British Vogue, said: "The challenge we set ourselves was to produce something that fulfilled the Vogue values – first class contributors, unparalleled creative and production, fashion and beauty authority – while taking advantage of this new medium to bring the best of the worlds of fashion, beauty and style to life at the touch of a fingertip."
Robin Derrick, creative director for Vogue, who has overseen the creation of the app, added: "Vogue on the iPad has given us the opportunity to put life, colour and movement into our magazine. From moving image and sound, to internet connectivity, the possibilities are exciting and engaging."
Vogue and Conde Nast sibling magazine Wired are both launching week long digital outdoor campaigns from Monday (8 November), using Transvision screens owned by JCDecaux.
The campaigns will preview the related December issue iPad apps across 12 national rail stations including Victoria, Charing Cross, Kings Cross St Pancras, Waterloo and Euston.
Both outdoor campaigns have been planned and booked through M2M and Posterscope.