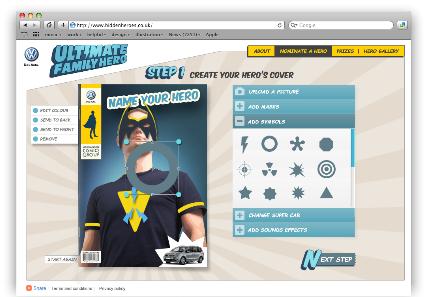 The 'Ultimate Family Hero' campaign, created by DDB UK, will encourage consumers to nominate a family member who they think is worthy of recognition for entry into a competition to win a VW MPV vehicle.
Users are directed to a dedicated site, Ultimatefamilyhero.co.uk, at which they can upload an image of the family member to be incorporated into a mock comic book cover, with the individual shown with a super-hero mask. The image can then be shared via Facebook.
To win a vehicle, the photograph must be accompanied by a written explanation of why they deserve to be one of three shortlisted finalists, who must undertake a series of challenges which involve driving the Touran and Sharan.
The finalists' videos will be streamed from 11 October for a public vote, with the winner receiving a car and £5,000 for the charity of their choice.
"We recognised that it was going to be a challenge to launch our two new models, the Touran and Sharan, to families with limited spare time," said Josie Taylor, VW communications manager for small cars.
"Given that we know our audience spend time on the internet both with their children and alone, we tasked DDB UK with producing a digitally-led campaign which married fun and interaction with some core product messages," she added.