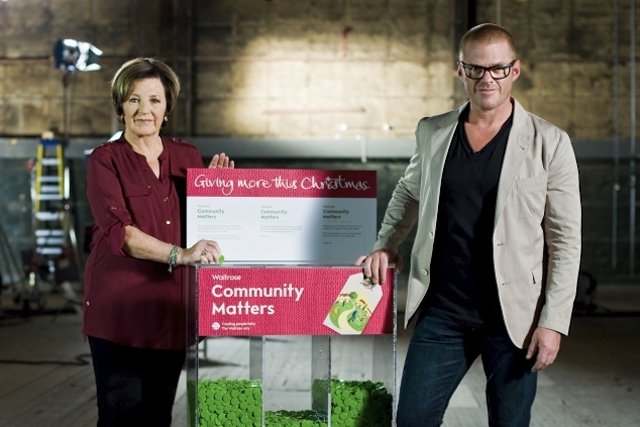 The supermarket brought in Smith and Blumenthal in March 2010 as part of a fresh marketing strategy intended to encourage consumers to cook from scratch, by sharing expertise, showcasing recipes and offering tips.
The supermarket will not renew its contract with Smith when it expires in February but will extend Blumenthal's, due to end at the same time.
Blumenthal is to be retained to feature in the brand's advertising and continue his Waitrose ranges in an attempt to 'push the boundaries of supermarket innovation'.
The chain reported that its Heston-created Hidden Sauce Figgy Pudding and Christmas Cake were among its festive season top-sellers.
Rupert Thomas, marketing director at Waitrose, said the supermarket appreciated Smith's work. He added: 'We remain on very good terms.'
The chain claims the contract was terminated by 'mutual agreement' because Smith has several other major projects this year.
Smith and Blumenthal both appeared in the Waitrose Christmas campaign last month. The pair waived their fees for the ad to generate additional money for the retailer's Community Matters charitable scheme. Waitrose claimed its 'unglamorous' spot, filmed in an empty studio, helped provide an extra £1m for local charities
The ad coincided with record festive sales for the brand. Its like-for-like sales rose by 4.3% between Sunday 4 November and Monday 24 December, with volume growth driven by the extension of the Waitrose 'Brand Price Match' initiative.
The number of items purchased at the chain over Christmas increased by 5.9% year on year, on the back of customer numbers jumping 4.5% year on year.
Waitrose managing director Mark Price claimed the supermarket's 'inspiring, innovative' products were key to its festive success.
Ads by BBH also push the brand's commitment to good service and responsibly sourced fish, but do not feature Blumenthal or Smith.