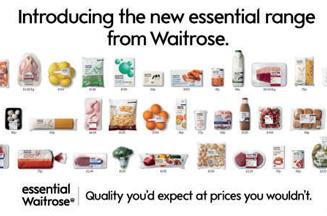 The push, created by MCBD, breaks today and will promote the breadth of the line, which comprises more than 1,400 staple grocery items. The ads are also intended to convey the products' quality.
The Essential Waitrose range was launched in March after the supermarket's rivals had bolstered their emphasis on cheaper own-brand ranges. Tesco launched a Discount Brands line in September, while Sainsbury's rolled out a 'Switch and save' drive, urging consumers to try its Basics range.
The Waitrose TV ad shows various products each with the price underneath. A voice--over, by poet Roger McGough, assures consumers that quality has not been lost, despite the lower prices.
The TV advertising will be supported by posters using the strapline 'Quality you'd expect at prices you wouldn't'. These will run on banner sites in London's Fenchurch Street, Hammersmith, and Charing Cross Stations, as well as the large-format poster site at Euston Station.
Press ads, direct mail and online activity will include meal suggestions such as 'The essential fish and chip supper' and 'The essential breakfast'.