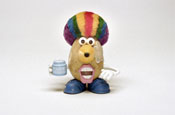 The product, which was launched in 2005 backed by a £2m advertising campaign, was one of the first UK better-for-you products from the PepsiCo-owned company.
A spokeswoman for PepsiCo said the range was delisted after a factory fire in the autumn forced it to rationalise the number of brands in production. She could not say when Potato Heads would be returning to shelves.
Sales of the brand fell by 49% from £26.3m to £13.4m in the year to October 2007, according to Nielsen. At launch in 2005, it appeared that Potato Heads would be a success as the brand racked up sales quickly; in the first year it was valued at £24m.
Although the disruption to production will have had an influence on the decision, one industry insider claimed: 'Potato Heads were not doing that well before the fire.'
Walkers Lights, the crisp brand aimed at dieters, also fared badly, despite a rebrand last year replacing the word 'Lite' with 'Light'. Sales slumped by 32% to £16.3m over the same period, after a 15.7% fall the previous year.
On the healthy side, the company is focusing on its Walkers Baked brand which rolled out Bacon & Cheddar and Mango Chilli variants this year. Late last year Walkers also launched Sunbites snacks, its first wholegrain product, made from wheat, oats and corn and containing no artificial colours flavours or preservatives.
To spearhead work in this area, PepsiCo has created a marketing director role with a focus on the better-for-you products. The post was filled by PepsiCo veteran Sean Summers in the autumn.
Walkers plans to spend a record £27m on marketing this year. It is currently re-running its 'Home grown' ad campaign, in which Gary Lineker sings and dances in a muddy field to promote the fact that it uses only British potatoes. It has cut fat and salt levels and switched to Sunseed oil across all lines.