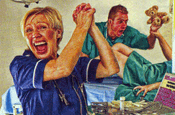 Created by Spacebar Media, it featured a nurse celebrating next to a trolley holding surgical equipment and a laptop, which read 'Wink Bingo Winner'.

Behind the nurse were a surprised man holding a teddy bear and a woman lying in bed under a "Maternity Unit" sign.

The ad's catchline read: "Find the appropriate moment..."

The ASA considered whether it breached its rules by portraying gambling as taking priority over professional commitments and showing betting in the workplace.

Spacebar Media said it wanted to differentiate Wink Bingo from others by being "cheeky, irreverent, sassy and a bit naughty".

It said the ad did not portray the real world as it had a heightened fantasy situation, the props and wardrobe were not authentic and that a midwife could be hiding behind a screen.

The ASA said: "We acknowledged that the intention of the ad was to portray a real-life situation in a humorous way, but considered that the ad nonetheless showed a health-care professional ignoring a woman giving birth in order to play bingo online."

It also decided the "Find the appropriate moment" text was likely to be understood as condoning gambling in the workplace. The ruling means the ad must not appear again in its current form.




In a separate online gambling judgement today, the ASA rejected a complaint by Liberal Democrat culture spokesman Don Foster MP about Foxy Bingo's TV ad regarding its '£10 free offer'.

He had challenged whether the use of 'free' was misleading and whether the ads made the conditions of the offer clear.

The ASA said the terms and conditions were clear and the £10 giveaway was just for gameplay.