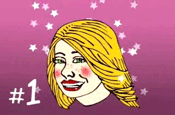 The ad contained a cartoon caricature of a young woman against a pink background with white stars as she played and won at online game Bejeweled.
A viewer was concerned that the imagery could attract an audience under the age of 25.
Midasplayer, the owner of King.com, did not believe the ad offered a gambling product as the games on the website were games of skill only.
However, Midasplayer did point out that the King.com homepage featured a link to a gambling site, Royal Games.
The ASA concluded that the ad could be shown to promote a gambling product and should not be shown again in its current format.