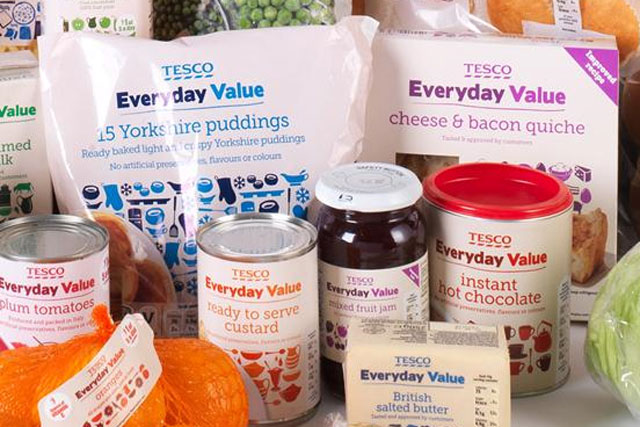 Clarke revealed that aggressive expansion plans would be scaled back as the brand seeks to concentrate on marketing, smaller store formats, better service, and its online offering.
Speaking during an analysts' conference following the company's annual results, Clarke revealed the supermarket's renewed emphasis on marketing.
He said: "We've got to build better brands. Everyday Value [which was introduced this month to replace the Value range] we've been working on for the last six months, the venture brands are building and we've now got 12, and they are doing very nicely.
"This is a plan we started last year, it is not one we will start tomorrow.
Clarke alluded to a shake-up of its agency arrangements, referring to its decision to review its £110m advertising account, held by The Red Brick Road.
"There will be more personalisation and localisation [in marketing] and we have brought [Clubcard creator] Dunnhumby back where they belong, right at the heart of the business, and only last week we began a creative agency review, the first of a decade. Quite simply, we need a different conversation."
Clarke was reluctant to drill down into specifics of upcoming marketing plans, but admitted: "We lost the marketing battle at Christmas – we can't talk about upcoming plans because they are a commercially sensitive area, but customers will see a change soon".
A renewed focus on in-store customer service is also being carried out, with the supermarket claiming it is compressing three years' work into one year, with a £200m investment in recruiting and training new staff.
Clarke said Tesco had been working colleagues too hard after "running the stores too hot", but denied the retailer had been "delivering a bad shopping experience for millions of customers".
Instead, he claimed Tesco had been guilty of stopping incremental improvements and losing focus on the "every little helps" philosophy, which he called the "lifeblood" of like-for-like sales increase.
He stressed: "No part of the business is bigger than the Tesco brand – we don't need to find places to plant new flags. It is about putting the customer first."
The brand's focus on multi-channel retailing is being accompanied by a social media push, with Clarke claiming "social media will soon be as influential as press advertising".
He said multi-channel retail was being grown by rolling out of more dot.com-only stores, with the last two London stores to open by the end of 2013, followed by a store in Oxfordshire and West Midlands.
Clarke indicated the greater emphasis on e-commerce would allow Tesco to focus on groceries in-store and scale back the non-food offering in its superstores after the latters' sales did not live up to expectations.
The Tesco Direct non-food e-commerce site currently has 80,000 products online, but Clarke said there would be 200,000 products available by Christmas.
Clarke has denied reports that Tesco was "calling time on the hypermarket", but said the chain would instead focus on smaller format stores, where it sees opportunity for growth.
Tesco's vision for the future of the hypermarket is a slimmed down form focused on food, services and clothing, rather than other non-food items such as electrical items.
Follow Matthew Chapman at @mattchapmanuk