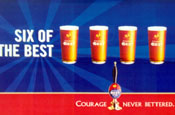 The pitch will be handled by the AAR, which is in the process of drawing up a shortlist.
Farm and Team Saatchi, which already work on other Wells & Young brands, will be involved in the pitch.
The winning agency will be briefed with restoring the Courage portfolio of beers, which includes Courage Best, Courage Directors, Courage Dark Mild and Courage Light Ale, in both pubs and the off-trade.
Chris Lewis, the director of marketing at Wells & Young, said: "The Courage brand is incredibly iconic and has a heritage of fantastic advertising. Both Farm and Team Saatchi have done a great job for us on their respective brands and the purpose of the review is to find an agency best suited for the particular needs of Courage."
Wells and Young acquired the brand from Scottish & Newcastle in January 2007.