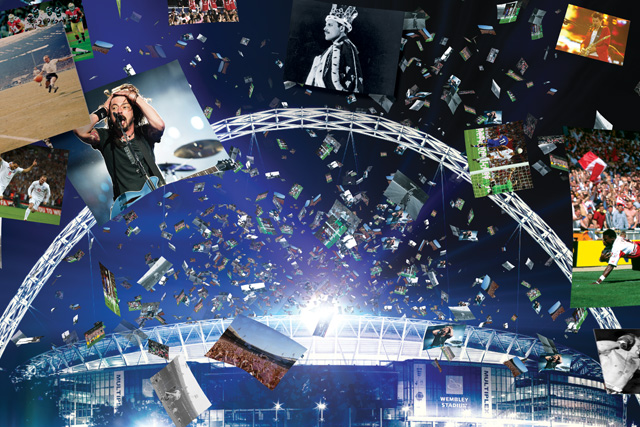 Activity has been timed to coincide with high-profile football matches being hosted at Wembley over the coming weeks, including the UEFA Champions League final.
According to Adrian Wells, head of marketing for The FA Group, the push marks a 'key step' in the development of Wembley into a 'globally iconic brand', and follows the introduction of the strapline 'Inspiring memories'.
The campaign, created by Dare, M&C Saatchi and The Football Association, will centre on Wembley's position as a venue capable of hosting a range of sporting and music events, as well as live football.
Ads set to roll out this week will attempt to tap into the public's nostalgic view of the stadium, dwelling on memorable concerts and sporting occasions hosted there over the years.
The campaign, which involves a partnership with talkSPORT, will begin with radio and online activity, including interviews with Rolling Stone Ronnie Wood, ex-footballer Stuart Pearce and former rugby league star Martin Offiah.
The FA is looking to drive traffic to the Wembley website, which relaunched earlier this year to feature the stadium's updated visual identity and social-media content. Consumers will be invited to visit Wembleystadium.com/greatestevent and vote for 'Wembley's Greatest Event'.
Voting options include the 1948 London Olympics, the World Cup Final in 1966, Live Aid in 1985 and The Rolling Stones' 1990 concerts.
Voters will have the chance to win a Club Wembley box experience for 20 guests at England's football match against Holland on 10 August.
'The campaign aims to get people talking about Wembley as a part of the nation's collective memory, by linking the events of the past to those of the future,' said Sarah Hedges, marketing manager for Wembley Stadium.
The new stadium opened in 2007, having been rebuilt on the site of the previous venue.
The FA is also looking for sponsors for Wembley, following Microsoft's decision to end its £5m-a-year deal with the stadium.