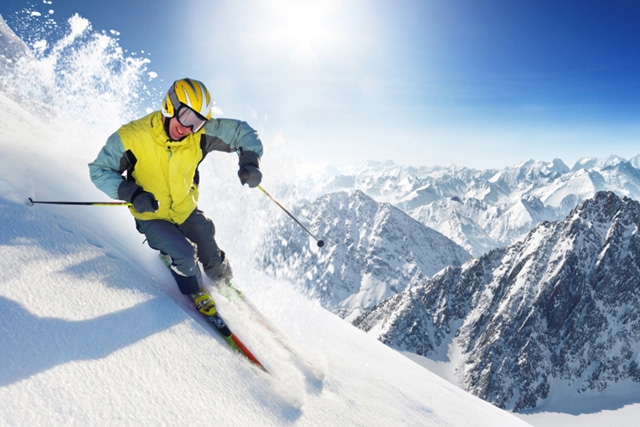 The skiing holiday often conjures images of rich folk in Cossack hats, sipping expensive liqueurs and eating fondue in places like St Moritz or Zermatt. The winter break to the mountains is seen by many as an exorbitant luxury, and a luxury that is all the more out of their reach in the context of economic gloom. Indeed latest figures from Kantar Media TGI show that since 2007, the number of people practicing winter sports has fallen from 2.3 million to 1.9 million today.
Even since 2010 the percentage of the adult population (aged 15+) who have been on a ski break in the previous year has fallen from 1.75% to 0.9%. You would be forgiven for thinking this reinforces the idea of skiing as a sport for the elite and it can't be long before Made In Chelsea does an Alpine special.
Or maybe not. Insight from the latest GB TGI survey reveals just who today's skiers are. Two thirds are men and two thirds are aged 15-34. In 2007 both stats stood at 58%. Skiers and snowboarders are more likely to be younger, and more likely to be men than before.
This would indicate that it's squeezed families who now forgo the winter holiday. In 2007 parents of children aged 5-15 represented 17% of winter sports enthusiasts. Now the figure is closer to 9%.
Interestingly, the new WHY Code metrics on TGI, which reveal both the conscious and sub-conscious influences that drive purchase decisions, show that those who do go skiing don't exactly have money to burn either.
Fifty percent of skiers and snowboarders cite price as the most important factor when making travel purchase decisions. Only 20% say that convenience of airport is the deal-making factor, while a meagre 9% ultimately value convenience of timings. For winter holiday makers it is clear that price is more important than convenience.
When we look at their attitudes, we see that those in this group are particularly likely to be adventurous, and passionate about travelling, which fits with the notions of challenge and thrill-seeking that attract many to skiing and snowboarding. They like to take holidays off the beaten track, and prefer to go somewhere different for each vacation.
These key attitudes driving winter sports enthusiasts tally with the Social DNA metrics of TGI's WHY Code which reveal that cultural criteria are more dominant than economic in driving this group. Although, as cited above, price may be a key driver behind their travel purchase decisions, this merely reflects the fact they don't necessarily have the economic capital for it to be otherwise.
While most skiers command at least an average income, their purchases are far more likely to be informed by cultural factors such as their education, and their historical engagement with more enlightening pastimes than their economic prowess.
TGI reveals this group is over twice as likely as the average adult to have an interest in politics, economics or science. They are three quarters more likely to have been to the theatre in the last month and are 50% more likely to buy a paperback history book. The cultural factors dominate the economic factors in the winter traveller's holiday purchase decision.
All of this would lead us to believe that when looking at how to reach this ever-shrinking group of snow-loving tourists, we would do well to look beyond generic socio-demographic targets.
In terms of effectively reaching a niche target that has at least average levels of money, but whose decisions are culturally dominated and who claim to have a keen sense of adventure, TGI reveals they are significantly more likely than the average adult to be among the heaviest fifth of consumers of internet, cinema and outdoor media.
Digging down to more detail, when it comes to outdoor media, this group is 60% more likely than the average adult to see advertising on the underground and 50% more likely to see advertising at railway stations. In keeping with what we've seen of their love of adventure, when it comes to cinema more of them claim action/adventure as their favourite film type (16%) than any other genre.
Ashley Underwood, strategy manager TGI & Custom, Kantar Media