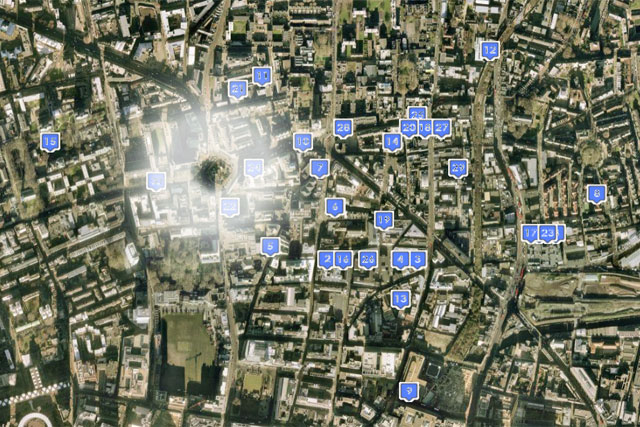 Once a neat nickname coined by Dopplr.com chief technology officer Matt Biddulph in summer 2008, later a map in Wired magazine and now a key plank of David Cameron's plans for post-Olympic East End prosperity, London's so-called "Silicon Roundabout" has officially gone beyond a joke.
The collection of ever-more stylish, ever less grotty streets around Old Street and Shoreditch described by the term has for quite some years been a natural technology haunt, largely because of cheap rents.
Technology and media these days being much the same thing, the residents of the Roundabout are now not only start-ups but agencies, media buyers, search specialists and media owners – all either with a digital twist to their business or a more style-conscious reason for being in the area.
"I really think Shoreditch is what Soho was 20-years ago," says Nick Beck, managing director of Tug Search on Charlotte Road. "From my point of view, having a cool office in Shoreditch has been a big selling point when we've been looking to hire young, dynamic staff."
With rents reliably about a third of what you might expect to pay in Soho, and the cachet these days rather more real than that of the West End, Shoreditch and its environs are likely to boom still further.
A number of the names on Biddulph's original list of 15 founding Silicon Roundabout firms have been bought or moved, but dozens more have taken their place, including these 30 from the media side of technology and the technology end of media.
Click here to view Media Week's interactive map in full screen
1) Albion London
1.03 The Tea Building, 56 Shoreditch High Street, E1 6JJ
www.albionlondon.com
An integrated advertising agency that applies digital thinking to traditional media channels, such as the company's TV ads for eBay with a live web feed.
2) Banksthomas
Zetland House, 5-25 Scrutton Street, EC2A 4HJ
www.banksthomas.com
A web design, e-commerce, search and digital marketing outfit with some stylish credits, Banksthomas plies its trade on Scrutton Street, a short walk east of City Road.

3) Buongiorno
57-63 Scrutton Street, EC2A 4PF
www.buongiorno.com
Mobile media and technology titan Buongiorno has its London office just down the road from Banksthomas.

4) Cimex
53-55 Scrutton Street, EC2A 4PJ
www.cimex.com
Fourteen-year-old digital engagement outfit Cimex has built platforms of various kinds for the BBC, Directgov and numerous charity clients. Another Scrutton Street resident.

5) Circus Creative
Third floor, Friendly House, 52-58 Tabernacle Street, EC2A 4NJ
www.circuscreative.co.uk
A digital creative agency that can emblazon GlaxoSmithKline, British Gas and Estonian Rugby Union across its client page, Circus nestles amid the urban splendour of Tabernacle Street.

6) Display Digital
Third floor, 86-90 Paul Street, EC2A 4NE
www.displaydigital.co.uk
Full-service digital agency Display Digital is on Paul Street and its recent projects include a global Facebook campaign for Sony Ericsson and a microsite for MTV and Sony PSP.

7) Geocast
27 City Lofts, 112 Tabernacle Street, EC2A 4LE
geocast.com
Geocast brings location-based mobile and online advertising to Shoreditch. Tabernacle Street, to be precise.

8) Glue Isobar
31 Old Nichol Street, E2 7HR and The Tea Building, 56 Shoreditch High Street E1 6JJ
www.glueisobar.com
One of Silicon Roundabout's biggest digital employers, with two offices in the E2 postcode, Glue has lately been dispensing creative solutions to The Sun, the Green Party, VisitSweden and 3.
9) Grape Digital
5 Calvert Avenue, Shoreditch, London E2 7JP
www.grape-digital.com
Part of an international collective of "social media mad international marketing professionals", Grape claims to be the best social media advisor in town for a diverse set of brands ranging from Tesco to Agent Provocateur.

10) i-D
124 Tabernacle Street, EC2A 4SA
i-donline.com
Too cool for the likes of you, fashion, music, art and youth culture mag i-D is one of the more inevitable denizens of London's coolest media corner.

11) Last.fm
Karen House, 1–11 Baches Street, N1 6DL
www.last.fm
Last.fm's £140m sale to CBS in 2007 undoubtedly still inhabits the dreams of many Silicon Roundabout residents. It's still there, scrobbling away.

12) Milo Creative
35 Kingsland Road, E2 8AA
www.milocreative.com
App developer Milo Creative keeps the iPhones of Shoreditch well stocked. BBC and children's projects a speciality.
13) Moo Print
32-38 Scrutton Street, EC2A 4RQ
www.moo.com
Only a media firm in the most literal sense, Moo makes business cards, but its additional strategic input to the Silicon Roundabout is its (in)famous summer parties.

14) Moving Brands
7–8 Charlotte Road, EC2A 3DH
www.movingbrands.com
The international brand agency spreads itself across Tokyo, Zurich and San Francisco, but in London it lives on trendy Charlotte Road.

15) Media and Marketing With Impact (MWI)
23 Bartholomew Square, EC1V 3QT
www.mediawithimpact.co.uk
A multidisciplinary agency with 30 years' experience in media buying and planning, Media With Impact also extends into online and branding. Clients include the BBC, Saab and Levi's.

16) Pluck
Zetland House Unit 3B, 5-25 Scrutton Street, EC2A 4HJ
www.pluck.com
Pluck, a social media operator owned by Demand Media, has worked with clients including IPC Media, Hearst and The Guardian

17) Poke London
Fourth floor, Biscuit Building, 10 Redchurch Street, E2 7DD
www.pokelondon.com
Another of the bigger names in Silicon Roundabout - and in (mostly) digital marketing in general - Poke London is a bastion of creative Shoreditch cool.

18) Public Creative
First floor, 58-60 Rivington Street, EC2A 3AU
www.publicreative.com
Public Creative develops web and mobile properties for Nike, Camelot and Vue, and does so from Rivington Street.

19) Show Media
Ground Floor, 1-2 Ravey Street, EC2A 4QPT
http://www.showmedia.net
Show Media is publisher of City lifestyle magazine Brummell, as well as corporate titles for bands such as Graff, Swarovski and Heathrow Airport.

20) Sitelynx
64 Charlotte Road, EC2A 3PE
www.sitelynx.com
SEO, PPC and social media specialist Sitelynx is so Shoreditch, it's immediately next door to the Bricklayer's Arms.

21) Somethin' Else
20-26 Brunswick Place, N1 6DZ
www.somethinelse.com
Somethin' Else is the UK's biggest radio production company, with a strong line in branded and online content.
22) TechHub
Ground Floor, 76-80 City Road, EC1Y 2BJ
http://www.techhub.com
TechHub, founded by London Twestival organiser Elizabeth Varley and Techcrunch editor Mike Butcher, is an affordable media and technology 'co-working space' that endeavours to build a community of start-ups. Current tenants include Peer Index, Squadify and Developer Fusion.

23) Techlightenment
3.08 Tea Building, E1 6JJ
www.techlightenment.com
If nothing else, Silicon Roundabout must be the social marketing hub of the UK. Techlightenment is one of many, creating apps, campaigns and strategy for Skype, Direct Line and Lovefilm.

24) Thin Martian
32-37 Cowper St, EC2A 4AW
www.thinmartian.com
Creative technology agency Thin Martian does a full spread of creative digital things for Microsoft, Unilever and Condé Nast, and they're 60 yards from the Old Street roundabout.

25) Tug Search
61 Charlotte Road, EC2A 3QT
www.tugagency.com
Silicon Roundabout makes more room for purveyors of apps and widgets than for those who focus on anything so traditional as search. Tug is a relatively rare exception.

26) Vice and VBS
New North Place, EC2A 4JA
www.viceland.com/uk
The shock troops of New York music/style/news media could only really have settled somewhere like Shoreditch, and they have been there since it was properly cool.

27) The Viral Factory
58-60 Rivington Street, EC2A 3AU
www.theviralfactory.com
Over on Rivington Street, The Viral Factory was the most-awarded agency at the Cannes Cyber Lions two years ago and does work for Samsung and Skype, as well as some edgy things for Diesel.

28) We Are Friday
Great Eastern Street, EC2A 3JL
www.wearefriday.com
Currently on Great Eastern Street, but very shortly to move up the road to 2 Hoxton Street, N1 6NG, We Are Friday makes "modern marketing for an interactive world" – digital strategy, widgets, apps and websites for HSBC, Selfridges, Ikea and others.

29) Yodel Digital
1-6 Bateman's Row, EC2A 3HH
www.yodeldigital.com
Mobile and online advertising agency Yodel Digital resides towards the Shoreditch High Street end of the Silicon Roundabout. Among its clients are Britvic, the COI and the Daily Mail and General Trust.

30) YouGov
50 Featherstone Street, EC1Y 8RT
today.yougov.co.uk
Fractionally to the west of Old Street roundabout, away from the cool bit, is this research and consulting giant.