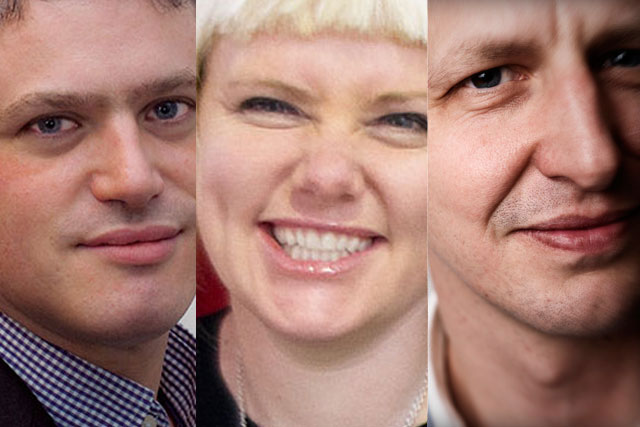 After being inducted into Brand Republic's inaugural Hall of Fame this autumn, we ask former colleagues, rivals and friends, why they think Cridge was nominated, and then push them on what the future could hold for Glue Isobar's chief executive.
Jason Goodman, CEO & founder, Albion

I've known Mark since those early days when I founded Tribal DDB. He's one of those unique blokes that stumbled into the business. He's not your typical adman or creative.

He's got a very unusual brain, like most good architects – which is what he trained for – Mark has the ability to combine emotional intelligence with rational skills. This suits today's modern marketer, who needs to handle data and interactivity, as well as all the softer stuff like brand and communications.

He's demonstrated his insight and strength of character over the years, not least when he bought himself out of the St Luke's partnership.

Let's be clear. Of all the senior guys out there, he's the real McCoy. He's a very astute digital marketer who gets the space. We've always competed but always been very good friends.

He's always been very charismatic, and the bottom line is we're in the service industry - I'm sure clients get that from day one.

He deserves this recognition. He did it on his own, panning for gold, very early. He had to fight his corner and in doing so helped shape what we're all doing today.

He's a pretty unique individual, but my secret worry is that we might soon lose him. In my opinion he's far too young to be put out to pasture just yet in a global network role. I've always admired the entrepreneur in him and think he's still got much to give.
Laura Jordan-Bambach, executive creative director, LBi

I've know Mark since I arrived in the UK from Australia in 2001. Glue were the guys who did the advertising bit at Deepend and I always thought they were really great.

Down to earth, Mark's always been a great sounding board throughout my career and when asked provided good, impartial advice. He cares about what happens to people, and that extends to before, during and after you've worked with him.

He's very, very humble and a good, sound, person. He's brilliant at leading a team. He's quite visionary but because it's not all about him he creates something that I feel every person in the agency feels like they can be part of.

This was underlined when every single person who worked at Glue got something out of the buyout, from the most junior designer all the way up to the senior designers. Everyone felt like they were part of it, the approach was pretty amazing and went a long way in building the agency's story.

He wouldn't be working at Glue Isobar today unless he thought he could make something out of it, and change things, and really make it a network for the future. I know where Isobar has come from, I know that there was once a sense of being slightly disconnected.

Hopefully Mark's started to close that gap a little bit, from global all the way to the shop floor. He's always been very creative and a visionary, and hopefully is helping everything feel a bit more connected, like they're all behind one vision.

When you've been bought by a massive agency network, there are certain things that have to change about you, but hopefully there are some things that remain the same. Every network needs to find its own story, and I think Mark is the person who can help create one for Isobar.
Nick Farnhill, founder, Poke London

I worked closely with Mark when at Deepend. He's always been one of those annoying people it's hard to have a bad word to say about. He's one of those few creatives who has managed to take on a senior network role by commanding respect through his strategic vision.

The fact that he has been able to maintain the essence of a company like Glue, with all its opinionated, creatively motivated individuals, after being bought, is testament to his skills an sensitivity to what makes it work.

The ability to nurture and inspire talent is a vital part of the business for those operating in digital. You soon realise that it's a spiritual thing that keeps people together more than any management techniques.

Who Mark keeps around him, his tight senior management, including Seb and Martin, have ultimately been key to glue's success, and Mark knows it. Recruitment and talent are key and the pressure is only increased as traditional agencies with slightly deeper pockets are now vying for the same skills.

The fact that Glue remains at the top of the industry's recruitment lists is pretty telling. The culture and ethos still smacks of people being considerate, they know how to treat their staff.

Of course there has to be a fear the Shoreditch mentality has been lost, it's natural after such change. But it's a new space with fantastic opportunities and I believe Mark, with his care and humility, can make that just another part of the narrative. Glue is now forging its new story for the next decade.
Read Brand Republic's extended interview with Mark Cridge here