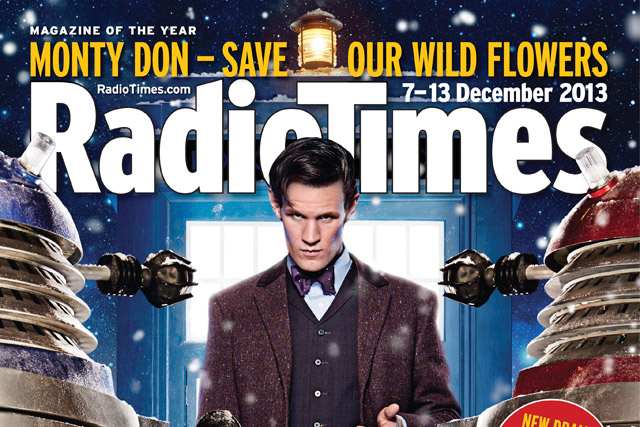 Radio Times is a behemoth of magazine publishing, still at the top of its game in its 91st year. It is the UK's biggest-selling quality magazine, the most valuable magazine on the UK newsstand and the biggest-selling weekly magazine on subscription.
These are fantastic achievements, but they only come about through a long-term strategy of investment in an iconic British brand, and an extraordinary focus on editorial and marketing excellence in delivering that strategy.
Our editorial team is obsessed with delivering the best content week in week out. Anyone who believes Radio Times is just a listing magazine has not looked at it for a long, long time. Our roll call of brilliant contributors and writers includes Barry Norman, Sarah Millican, Justin Webb, Michael Buerk, Eddie Mair, Justin Welby, the Archbishop of Canterbury, Ed Miliband, and Steven Moffat.
Our exclusive content is picked up by news media every single week, and with more than 25 national newspaper articles a week, Radio Times has a higher media profile than any other magazine brand in the UK.
We invest in original photography, resulting in brilliant covers. Who else could bring Lily Allen and Dolly Parton together? Or commission Grayson Perry to do an original self-portrait for their cover?
It is this brilliant content, combined with insightful guidance to the best in broadcast media, and well-laid-out, easy-to-use listings pages that combine to make Radio Times the unique product it is.
And Radio Times always rises to the big broadcast event, delivering comprehensive coverage and added value packages for the World Cup, the Commonwealth Games, The Proms, and the Baftas.
We extend the brand's footprint and influence through key partnerships, sponsoring The RT Audience Award at the Baftas, and the first TV Detective Award at the National Television Awards on ITV, and hosting extraordinarily popular reader events at the Cheltenham Literature Festival, including audiences with Benedict Cumberbatch, Stephen Moffat, Paul Hollywood, Julian Fellowes, David Mitchell and Alistair Campbell, among others.
Our readers are upmarket, cultured, intelligent, discerning and opinionated. They are also doggedly loyal to a magazine that they love, and they do not hesitate to let us know their views.
Our postbag exceeds 700 letters a week. They are passionate about quality television and radio, and want to be guided to the very best of what is on offer each week. Radio Times is simply a part of their week that they would not be without.
Our brand values and editorial excellence have been extended into thriving digital products. Radio Times is now available in whatever format consumers choose to access it.
Radiotimes.com reaches 3.6 million users a month and is growing fast, up 37 per cent year on year. Ad revenues are up over 100 per cent year on year. Our newly launched app Discover TV has won awards from the PPA and the Association of Online Publishers, and is fast garnering an audience using it every day to make their viewing choices, and we have just launched a newsstand edition on iOS.
For those not involved in the Radio Times world, its success can seem baffling. I'd be a wealthy woman if I had a pound for each time I have been asked: "Why do people still buy listings magazines?"
Radio Times flourishes because it delivers an invaluable service to its readers, not only guiding them to the very best of broadcast content but also entertaining and informing them. Radio Times is not a listings magazine.
It is a brilliantly executed magazine, with listings. And that is why people love it.