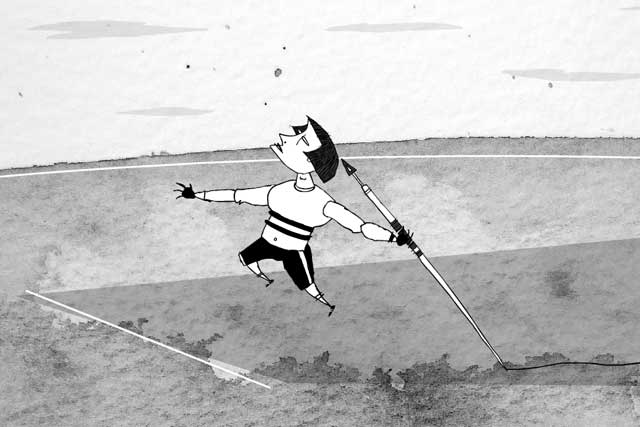 HOW: He says: "I've worked commercially for more than 20 years in TV, film and games, but have recently been developing my own style of work graphically. I am a huge sports fan, so all of the excitement and the competitive spirit of the Olympics spurred me on. Animation can be quite slow, but working this way has helped me speed up my working processes. It has also been an experiment for my new studio in social media and how to get our work out there! I've been really encouraged by the warm feedback I've had from this."
INSIDE WHITTINGHAM
How did you get into animation? I've always been an avid drawer from a young age, and animation had seemed a natural thing. When I first started out, you couldn't really study animation. So, I went to study graphic design at Hull, which had animation as part of the course.
What inspires you? Animation itself is my continuous inspiration. I like to be able to build my own world as an animator and I love the intimate relationship that develops with my characters as I am making my work. You can go anywhere with a pencil and a computer.
What's your proudest achievement? I'm rather proud of our new studio. We're based in Marsden, in Pennine Yorkshire (Last Of The Summer Wine country!). It's a beautiful place with plenty of character. I'm really pleased with the varied work I've done over the years. I've enjoyed working with licensed characters such as Goofy, Mr Men and The Simpsons.
What is your favourite animation? Too many to list! My favourite animators are Frederic Back, Yuri Norstein and Paul Driessen. I enjoy the way they tell stories, their unique graphic styles and what they achieved working on their own.
Tell us something interesting about yourself. I'm a really keen mountain-biker and do up to 15 miles on my bike most days. I do 24-hour mountain-bike challenges from time to time as I find it exhilarating and character-building.