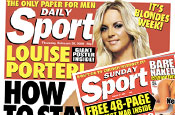 The news that the Daily Sport and Sunday Sport tabloid newspapers are to undertake a radical relaunch has been greeted with both intrigue and scepticism by media observers.

The two downmarket titles, renowned for female nudity and lurid stories of 62-stone German porn stars and sightings of Lord Lucan riding Shergar, are to get a complete makeover, as new owner Sport Media Group looks to haul the titles into the modern age and ditch their sleazy image - and create a new print genre of "newzine".

The relaunch is being overseen by lads' mag gurus James Brown and Barry McIlheney, who Sport Media Group hopes will be able to replicate their success helping make magazines such as Loaded and FHM household names.

The overhaul is, in effect, twofold. Firstly, adult advertising will be shifted to a separate supplement or to the back of the papers in an effort to lure in advertising from more mainstream brands.

This will be followed by a complete redesign of the Manchester-based titles that McIlheney claims will see a "heavier focus" on sport, which will now be extended across the paper; the ditching of celebrity coverage; a radically redesigned magazine-like cover and more tasteful photographing of female nudity.

"I want the girls to look happy to be there," he says. "At the moment, they look terrified."

For the boys
McIlheney is touting the new-look papers, set to hit news-stands in April, as "newzines"- a combination of magazine and news content that is "unashamedly for the boys".

He says: "The big change is that advertising in a separate supplement will shift the tone of the papers. There will be more coverage of lower league football and grass-root sports. The new product will be wittier, fresher and edgier. We needed to do something radical."

How different the changes will be to the papers, which already resolutely target a male demographic wanting their fix of nudity and salacious stories, remains to be seen.

But there is little doubt that both papers need reinvigorating, having suffered slumps in sales due to the rise in popularity in recent years of lads' weeklies, such as Zoo and Nuts, and, some say, underinvestment in promoting the titles under the previous ownership of David Sullivan, the pornographer and co-owner of Birmingham City.

The Sunday Sport has plummeted from selling more than 200,000 in 2000 to about 85,000 in December. The Daily Sport, which registered its first ABC in January this year, has seen a similar fall.

Yet media buyers remain unconvinced, arguing that the titles lack credibility in the eyes of many advertisers. While a handful of mainstream brands such as Ladbrokes and Setanta advertise in the papers, the majority of ad space is made up of adult advertising, mainly sex chat lines.

Rob Lynam, press buyer at Mediaedge:cia, says: "The brand will have a lot of work to do and even by shifting the adult content to the back, a lot of brands would not go near it."

Adrian Pike, associate director at MediaCom, agrees, saying: "The problem with the Daily Sport is that people know what it has stood for and it will take time to erode that perception despite any relaunch. Clients are exceptionally unlikely to put it on a consideration level."

McIlheney, though, believes the revamped papers will entice sport, mobile and gambling brands, which are keen to target the 18 to 45 male demographic the paper says will be its core readership.

Recruiting talent
Mike Soutar, chief executive of free title ShortList, believes the recruitment of editor-in-chief McIlheney and consultant editor-in-chief Brown is a coup for the paper, but believes it will be difficult to get mainstream brands to advertise."

He also believes that opting for magazine-like covers could prove problematic: "They need design talent to create a visual impact on a daily basis, which is tough to do."

The group has hired former Sunday Business and Daily Telegragh art director Julian Bovis to try and address this.

The Daily Sport's cover price of 55p and Sunday Sport's 65p will remain for now, but McIlheney insists going free is not currently on the agenda. Observers agree that taking away cover-price revenue at the same time as revamping the paper is risk-fuelled.

While the revamp of both titles generated excitement, the brand, it seems, still has some way to go before convincing sceptics that it has departed from its sleazy past and can lure in more mainstream brands.

HISTORY OF THE TITLES
The Daily Sport was launched in 1991, following its Sunday sister title, the Sunday Sport, which was first published in 1986
Its current owner Sport Media Group bought the tabloid papers last year for about £50m in a reverse takeover deal
The titles were owned and co-founded by porn magnate David Sullivan
Tony Livesey, the editor-in-chief and managing director of the Daily Sport and Sunday Sport, ended his 18-year association with the paper in 2006. Livesey is credited with helping shape the salacious and lurid character of the papers
The Sunday Sport has run a series of outrageous front page headlines over the years, including "Aliens Turned Our Son Into A Fish", "Hitler Was A Woman" and "Donkey Robs Bank"
The paper was forced to print a front-page apology to the pop star Ms Dynamite in 2003 after it published a picture of her head juxtaposed onto the top of a topless model
According to the ABCs, the Sunday Sport's highest circulation in recent years was 209,985 in January 2000. However, its circulation in January 2008 had dwindled to 87,307. The Daily Sport, which registered it first ABC in January this year, has seen a similar drop.