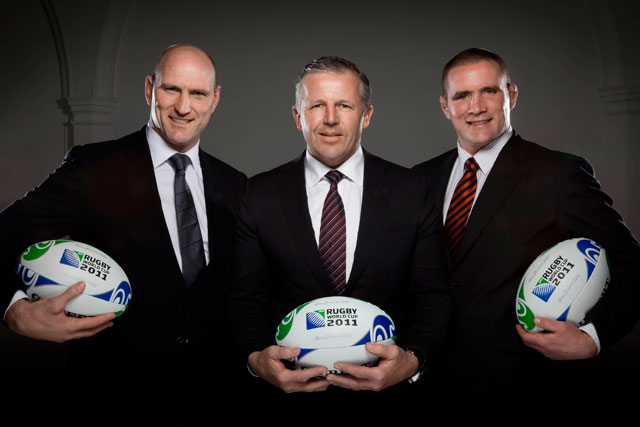 There's a lot riding on the Rugby World Cup for the host, New Zealand, which, although the tournament favourite, always contrives to choke at the crucial moment. After the devastation of the earthquakes earlier this year, restoring some pride is top of the All Blacks' agenda in a country where rugby is the national obsession.
Indeed, Sean Fitzpatrick, the former All Blacks captain, was drafted in by Saatchi & Saatchi to implore New Zealanders to show support for their team by abstaining from sex in an ill-considered "abstain for the game" campaign for Telecom New Zealand. While the locals are passionate about rugby, this was seen to be a poor idea and the ads were withdrawn.
You'd also expect it to be a big deal for ITV, which has exclusive broadcast rights for the tournament. The broadcaster has assembled a stellar cast of former rugby stars to provide comment including Fitzpatrick, Michael Lynagh, Phil Vickery, Lawrence Dallaglio, Gareth Thomas and, er, Craig Doyle, the former presenter of Holiday.
So it's big news. The rugby will attract the upmarket viewer that is normally a stranger to the ITV schedule, and bring new money into the broadcaster by getting the attention of advertisers, right?
Simon Jenkins, the strategy director at MPG Media Contacts, isn't so sure. He thinks the fact that the tournament is being held in the southern hemisphere has severely dented its appeal, saying: "With New Zealand as the host, time difference will be a barrier to entry. With kick-offs scheduled for anywhere between 2am and 9.30am, this will put off the less enthusiastic rugby fans, reducing live audiences to the hardcore fans only."
Jenkins thinks that the early airings will impact on brands that would normally be attracted to it. He explains: "While the event will continue to be attractive for the usual categories chasing the elusive AB male audience, the scheduling could put off the alcohol brands that would usually swarm around a major sporting event."
Mark Trinder, the sales director at ITV, naturally sees it rather differently. He says: "ITV has a long association with the Rugby World Cup, broadcasting it exclusively since 1991, and there is no doubt that this year's tournament is an exciting opportunity for advertisers. New Zealand 2011 offers a unique and incremental opportunity for them to reach upmarket and male audiences around the only major sports event this year."
He acknowledges that the time difference means that only the hardiest fans are going to be drinking beer in front of the box during the matches, but adds that technology means the way coverage is viewed presents new opportunities: "New Zealand hosting means early morning kick-offs, but it also means more opportunities to deliver multiplatform campaigns for clients. Sports fans are well versed in using technology to get the latest news, and our website and iPhone app will offer live coverage, highlights and catch-ups, ensuring fans don't miss any of the action."
David Wilding, the head of planning at PHD, isn't sure. He says: "As ever with rugby tournaments, there'll be no shortage of financial brands doing rather predictable 'rugby as a metaphor for business performance' ads, but I expect press and online to be the main beneficiaries, rather than ITV.
"This time, the difference is it's a much less compelling proposition for brands looking to piggyback on the feel-good factor of any England success - simply because it isn't widely expected to happen. It doesn't have the 'national event' TV feeling that it did in 2007."
Wilding also thinks advertisers are focused on what they can do around the Olympics next year. "Clients seem to have a 2012 head on - especially around the Olympics - but there is so much happening with the Diamond Jubilee and Euro 2012 that 2011 is almost 'event-free' by comparison. Unless rugby is core to what a client does, many people seem to be passing."
But Richard Oliver, the managing partner of investment at UM London, disagrees. He argues: "While the major football tournaments are great TV events, football coverage is at near-saturation levels through the year, and it doesn't deliver the unique audiences it once did for advertisers.
"By contrast, the Rugby World Cup is pretty much the only top-flight rugby shown on terrestrial commercial TV and only comes around every four years. Its scarcity, the unique and premium audience it brings and the ability to align brands with sporting values that differ from football will excite old and new TV advertisers alike."
NO - Simon Jenkins, strategy director, MPG Media Contacts
"On current form, England's progress cannot be guaranteed. This is in contrast to 2003, when the team was a front runner, and 2007, when they were holders. This won't help to coax viewers out of bed in the early hours."
YES - Mark Trinder, sales director, ITV
"The success of England and the home nations will vary as the tournament proceeds, but with IBM secured as a sponsor, some great bespoke creative campaigns and a high level of marketing support from ITV, viewers and advertisers are in for a treat."
NO - David Wilding, head of planning, PHD
"I think the bigger question is whether ITV is excited about it. There's not too much evidence that it is - certainly not yet, anyway. That's partially a result of antisocial kick-off times, but that was the case in 2003 as well, of course."
YES - Richard Oliver, managing partner of investment, UM London
"Some advertisers are excited by the Rugby World Cup, and some of these advertisers could be the ones that might have an ambivalent relationship with TV at other times."
Got a view? E-mail us at campaign@haymarket.com