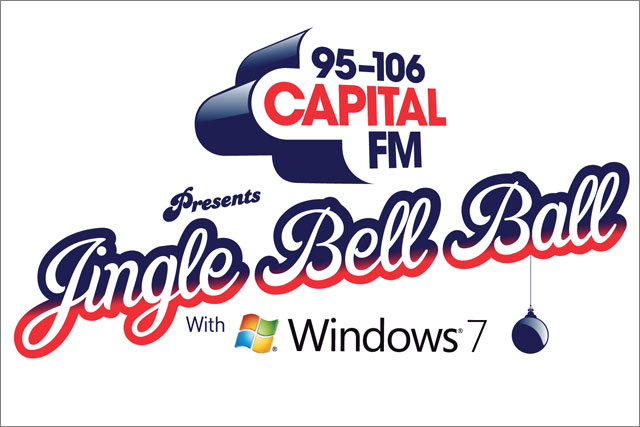 Teasers for the annual festive concert will run on the Capital network from today. The first acts and the venue will be announced on Saturday morning (29 October) and tickets go on sale on Monday (31 October).
The Windows 7 deal was brokered by UM London.
The activity has been created to raise awareness of the range of Windows 7 products and services and to support its wider 'Great Time to be With Your Family' promotion.
It will direct people to the Capital network (95-106 Capital FM) Facebook page where users can "play Santa" by choosing seven friends to receive special gifts.
The virtual presents on offer include Jingle Bell Ball tickets, Windows 7 PCs, "shout-outs" from a Capital presenter live on air and virtual badges to use on their Facebook profile page.
This year the Jingle Bell Ball will be promoted across the national Capital network for the first time, following Global Radio's rebrand of the former Galaxy network and a number of smaller stations at the start of 2011.
Paul Davies, director of marketing communications at Microsoft UK, said: "The Jingle-Bell Ball is a great platform to show some of the myriad ways people use Windows PCs, Windows Phones, Kinect for Xbox and [Microsoft] Office to connect with their friends and family at the festive time of year.
"By focusing on familiar situations that are shared by our audience, this is a great time to show how our users can get the most out of our technology."
Microsoft will also have pods showcasing Microsoft's latest products including Windows 7 laptops, Windows Phone 7, Kinect for Xbox and Microsoft's Office at the event.
The Capital network's experiential Street Stars team will also tour the UK in the run up to the event to ask families to fill out Christmas wish lists to enter a competition to win more Microsoft prizes.
Mike Gordon, managing director of commercial at Global Radio, said: "It's great to have Windows 7 as our headline sponsor for the third year running. Across this time we've worked together to create incredible, award-winning campaigns and I'm sure this partnership will take it to another level again."
UM London has worked with Global Radio on a number of major campaigns and earlier this year was the first recipient of Global Radio's Most Valued Partner Award.
James Graver, ideation director, UM London said: "The Jingle Bell Ball is the perfect platform to showcase the whole of Microsoft's portfolio and amplify the multi-product campaign currently running across TV and online.
"It's also now firmly established as one of music's best family events – and this partnership puts Microsoft at the very heart of the experience."