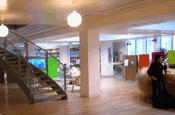 Until now, Wunderman has owned 10 per cent of RMG Connect, Ogilvy had 39 per cent, and JWT held the majority share of 51 per cent.

RMG Connect was set up in 1991 to serve the three agencies' clients but, in recent years, Wunderman and Ogilvy have taken more of a backseat to JWT.

The ongoing relationship is understood to have led to account clashes between Ogilvy, Wunderman and RMG Connect clients.

It is not expected that the restructure will affect RMG Connect's accounts or staff significantly in the UK.

However, personnel and office location changes have taken place in other markets. RMG Connect has a worldwide network of 33 offices in 22 countries.

In the UK, Tim Hipperson, the chief executive, was appointed at the end of 2006 to revive the agency's fortunes but, since then, RMG has lost its Vodafone and Sky accounts and has undergone a number of staff changes at senior management level.

Alison Burns, the chief executive of JWT London, said: "We work with RMG in an integrated way in the UK, but it will have a bigger impact in Asia where there are closer connections with Ogilvy."

Paul O'Donnell, the chairman of OgilvyOne London and EMEA, added: "JWT struggled to have a direct network.

"We decided to work with them to give people a chance to grow into new roles and new experiences and to benefit the WPP Group.

"Now RMG has matured, it's time to move it under the JWT wing."