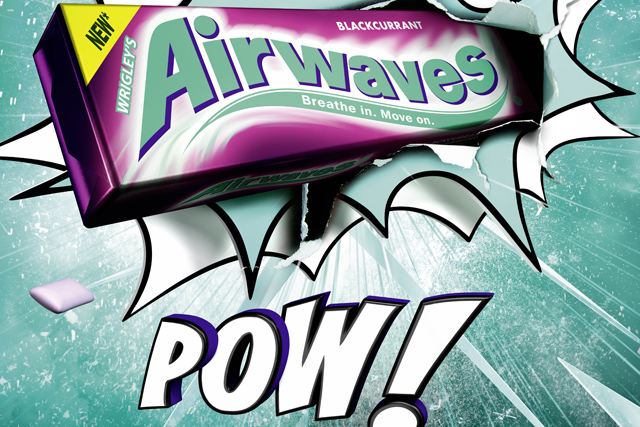 The repositioning has the Airwaves sub-brand moving away from product benefit-led messaging that shows how the menthol gum helps to clear people's sinuses, to a brand-led approach that highlights strong menthol "hit".
Wrigley's has released a supporting campaign, created by Billington Cartmell, which uses a super-hero graphic style, focusing on the outcome of the menthol hit.
The campaign features digital outdoor ads going live across the UK from 20 August, supported by digital activity across Facebook, national press ads and sampling activity. Media planning and buying is handled by Zenith Optimedia.
The Facebook activity features a 'Powman & Powgirl' game that gives consumers the opportunity to win an iPhone every day.
Vicky Morgan, Wrigley's marketing manager, Mars, said: "Airwaves is the second-largest gum brand in the UK.
"In order to grow the brand, we identified the need to overcome the barrier of its medicinal image – to many it has been seen as a decongestion product, too strong for everyday use.
"But many Airwaves fans were using it in a very different way and Billington Cartmell were able to help us get that message out there – that Airwaves is the only gum that can deliver mental refreshment. This gives the brand an everyday occasion and celebrates its unique strength and stimulating kick."
In December last year, Wrigley's launched a long-term marketing offensive across its Extra and 5Gum variants as it looked to better engage teens in the category.