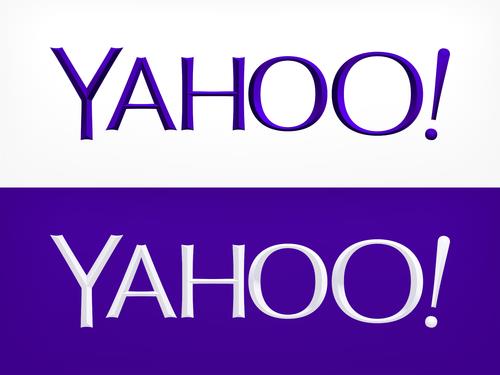 The new logo, which brings an end to Yahoo's existing visual identity, adopts a more conservative-looking font – using a typeface created by Yahoo – and retains the exclamation mark and purple colouring. The company said that while the redesign stayed true to Yahoo's roots, it was also "modern and fresh".

The redesign is part of an overhaul of the brand under chief executive Marissa Mayer, who explained the thinking behind the logo in her blog on Tumblr, the blogging site it bought for $1.1bn. Yahoo has also created a "blueprint" video.
Mayer wrote in her blog: "So, one weekend this summer, I rolled up my sleeves and dove into the trenches with our logo design team: Bob Stohrer, Marc DeBartolomeis, Russ Khaydarov, and our intern Max Ma.
"We spent the majority of Saturday and Sunday designing the logo from start to finish, and we had a ton of fun weighing every minute detail.

"We knew we wanted a logo that reflected Yahoo – whimsical, yet sophisticated. Modern and fresh, with a nod to our history. Having a human touch, personal. Proud."

Last month Yahoo announced that senior media player Dawn Airey is to lead its EMEA operations.