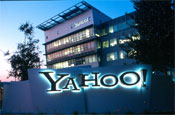 Amid talk of a Microsoft takeover and beneath the excitement of multi-billion-dollar headlines, Yahoo has discreetly unveiled to investors its vision of a future as a stand-alone, independent company.
Central to Jerry Yang and co's plans, outlined in a 35-page document, were aims to "serve advertisers' needs so well that they can't imagine not working with Yahoo" and to become the starting point for most users on the internet through its homepage, MyYahoo, plus Yahoo Mail, search and mobile.
Yahoo made clear its view that opportunities for display advertising are larger than search, claiming that it is in a strategic position to lead on this front. It is targeting $1.9bn (£950m) in added revenue over the next three years from display/video advertising, adding that its growth would outpace the currently anticipated market rate of growth.
Globally, search marketing is dominated by two players who hold more than 90% of the market. Yahoo points out that in display advertising, the top 10 websites have less than 25% of the market, and therein lies a golden opportunity.
It also plans to develop a new ad platform designed to simplify online advertising buying and selling, as well as improving the Panama search advertising platform.
Key priority

To be dominant in display, Yahoo intends to make launching online ad campaigns "fast and easy" - within minutes to hours, rather than the "inconsistent and slow" current experience, where booking campaigns takes days or weeks.
Ally this with
Yahoo European boss Toby Coppel's "key priority" to build a display ad network
in Europe, and Yahoo is talking of the sort of market domination that investors like to hear. But will it persuade them to resist Bill Gates' advances?
When Coppel set out his aims in
Media Week
last September, Yahoo had just bought ad network BlueLithium and signed a deal with Bebo to sell display ads across the social networking site. Since then, AOL has bought Bebo, and Google's purchase of DoubleClick has been approved by regulators, providing further evidence that there is more than one internet giant with display advertising at front of mind.
Jo Lyall, head of digital at MindShare Interaction, says that Yahoo potentially losing the Bebo contract is a big blow. "If you want to be the number one online buying point, you have to have all the options and Bebo was its social network sell. It doesn't have anything to offer in its place at the moment," she says.
Yahoo has started merging its display and search teams - a move welcomed by Rob Horler, managing director of Diffiniti.
Horler says: "Much more emphasis is going to be put on how online and offline display is working in tandem with search. So, from a media-buying point of view, the strategy is absolutely right. The problem is that it's devilishly difficult to deliver."
With Google entering the display fray with its £1.5bn DoubleClick buy, Horler believes Yahoo must accelerate its plans for display advertising.
"Google realises that it has to crack display this year if it wants to continue the momentum of its business. Google will start to make progress this year and eat into Yahoo and Microsoft's lead in display," he adds.
The prediction that Google will become big in display means that industry figures are not so concerned about a Microsoft-Yahoo merger leading to a monolith in display. Opinion centres rather on how a combined Microsoft-Yahoo search engine would be a welcome rival to Google's search dominance.
Viable competitor
Nigel Gwilliam, head of digital at the Institute of Practioners in Advertising, says: "The Microsoft bid for Yahoo is about creating a viable competitor to Google. On this basis, we don't have a problem with the proposed takeover. There has been some talk of Yahoo seeking to see off the bid by outsourcing its search to Google - we would most definitely have a problem with this."
But, whether part of Gates' empire or not, Yahoo's plans remain relevant - if not achievable, according to Mark Tomblin, head of strategy at digital agency TBG London.
Tomblin says Yahoo's presentation "contains a wish list of what it would like to be, rather than what it will be". He adds: "Spraying words such as strategic and opportunity around on charts doesn't mean it has a strategy. I don't see a lot of evidence that it will be able to achieve its objectives."
MindShare Interaction's Lyall says Yahoo should concentrate on other priorities. "Yahoo has more pressing issues to deal with in the UK, such as recruitment challenges, and that it is not getting its messages across," she says. "There are two things agencies want to know: what's happening this year, and what our long-term future relationship is going to look like."
The US is where the big decisions are made and Yahoo UK and Ireland declined to comment for this article. But the feeling in the industry is that Yahoo has to up its game in the UK and improve its dialogue with agencies, if it is to get close to realising the ambitions that have been laid out on the other side of the Atlantic.
Yahoo highs and lows

What Yahoo has to boast about...

- Second-most popular homepage in the world after Google
- Most popular personalised homepage
- Most used e-mail service globally, slightly ahead of MSN
- Number one portal on news, finance and sports
- Second-highest global query share for its search engine after Google
- Yahoo Answers, leading social search engine
And what it needs to improve on...

- Replacing high-profile figures such as Blake Chandlee and Richard Firminger
- Online sales team ranked 10th out of top 20 UK online media owners by IPA
- Search sales team ranked below MSN, Google and Miva in IPA UK survey
- Only a 7% share of UK searches, compared to Google's 79%
- Unique UK audience in February 2008 down 5% year on year