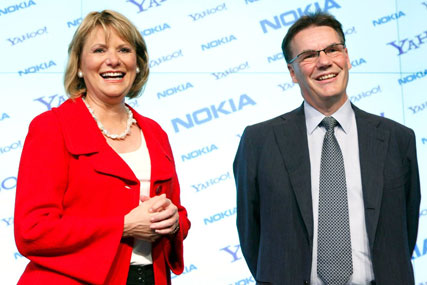 Nokia will now be the exclusive, global provider of Yahoo's maps and navigation services, integrating into Nokia's own service Ovi Maps.

Yahoo will become the exclusive, global provider of Nokia's Ovi Mail and Ovi Chat services, which will now be branded as "Ovi Mail powered by Yahoo" and 'Ovi Chat powered by Yahoo" linking the services of both companies.

They will also work together to simplify identification processes across each other's properties, working to provide users with a one-stop access code for each other's offerings.

Olli-Pekka Kallasvuo, chief executive of Nokia, said: "Delivering great user experiences both online and on your mobile is what this alliance is all about.

"We're enabling millions of Yahoo customers in key markets including North America to discover the unique capabilities that Ovi Maps brings. Similarly, Yahoo's online expertise will bring exciting mail and messaging enhancements to millions of Ovi Mail customers across almost every country around the world, many of whom will have their first internet experience on their mobile."

Select, co-branded service offerings are expected to become available from the second half of 2010, with a global roll out expected in 2011.

Carol Bartz, chief executive of Yahoo, said: "We're excited to expand the reach of our best-in-class Mail and Messenger services, bringing personalised experiences to more people across the mobile Web, particularly in emerging markets where we are seeding the next generation of Yahoo users."
The chief executive added that Nokia's strength and continued investment in maps and navigation stands to "greatly enhance our existing products", enabling Yahoo to focus on its core business.
Nokia has been lock in a battle for territory since the launch of the iPhone and the rise of the now ubiquitous BlackBerry, both of which have ever-increasing functionality.

At an investor day held at its headquarters in Espoo, Finland last December the company said it expected its market share to remain flat, while it advances its moves into the Smartphone market.
Nokia's share of the smart-phone market slid to 39.3% in the third quarter of 2009 from 42.3% the previous year, while Apple and BlackBerry maker Research In Motion gained, according to research company Gartner.
Last month, Yahoo's chief executive said local services, personalisation and online video will be key to the online business' growth this year.

Speaking at a Yahoo conference in London, 18 months after she joined the internet giant, Bartz said Yahoo! should not be ruled out as an innovative company.