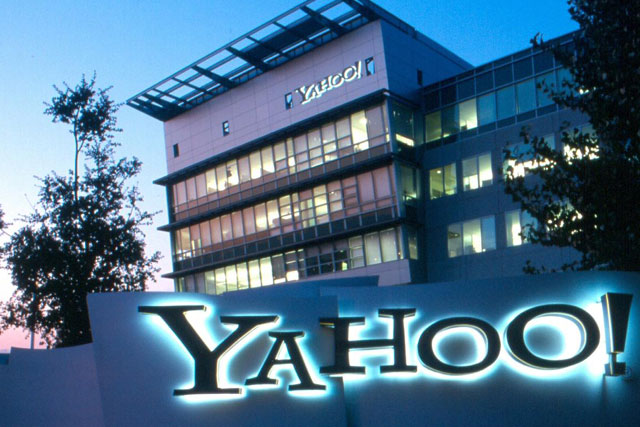 Yahoo's financial results were announced just hours after the internet company ushered in former Google executive Marissa Mayer as its new chief executive. Mayer, during her 13-year period at Google, helped build its dominance in search.
Mayer was not present during Yahoo's earnings call.
The results also chime with a major restructuring of Yahoo's UK commercial arm, which has led to the exit of UK sales director Steve Brown.
In the second quarter, Yahoo reported net income down 4.2% from the same quarter in 2011. Revenues nudged down 1% to $1.22bn (£781m).
Revenues across EMEA (Europe, Middle East, and Africa) fell from $163m (£104m) to $128m (£82m) in the period.
With around 700 million users, Yahoo has one of the biggest audiences on the web and its email service is still popular.
However, one of the problems it has faced is that advertisers are coming under heavier financial pressure, forcing them to buy online ads more cheaply from the likes of ad networks.
Yahoo is looking to combat that by launching new initiatives in this area, such as its partnership with Facebook.
It has also forged a partnership with Microsoft and AOL to sell advertising for each other.
Another problem Yahoo has faced is leadership, or lack of it. There have been four chief executives in the last five years, along with two interim chief executives. Mayer will be hoping to stay in the job longer than her predecessors.
Its restructuring costs included cutting 1, 500 staff, reducing its headcount to 12,500 employees.
In the quarter, Yahoo benefited from its stakes in Yahoo Japan and China's Alibaba Group, with earnings from the two businesses reaching $180m (£115m), a 65% uplift from the previous year. Yahoo has already agreed to sell half of its 40% stake in Alibaba for around $7bn (£4.5bn).
Highlights in the period, according to Yahoo, included a new advertising partnership and an agreement to settle all pending patent claims between Yahoo and Facebook; a global distribution deal between Yahoo! and Spotify, and the launch of online advertising service Genome.
Follow @johnreynolds10