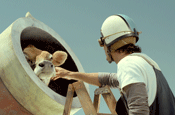 The campaign, which consists of a 30-second TV ad, as well as print ads and on pack promotions, continues with the brand's "milk shaken up" strapline, which was introduced in November 2008.

The TV spot, which was directed by Serious Pictures' Jonathan Dennis, portrays the day in the life of a Yazoo cow, which gets shaken up by being fired out of a canon.

The campaign first breaks in Ireland on the 1 March, and will then run in the UK throughout that month.

Marielle de Jong, the UK marketing director for Yazoo owner FrieslandCampina, said: "The new TV ad should surprise and thrill our target audience. Not only is it reflective of the 'fun' side of milkshakes but it also supports our core brand messaging that Yazoo offers all the goodness of milk, is low in fat, and contains natural flavours and real fruit juice."