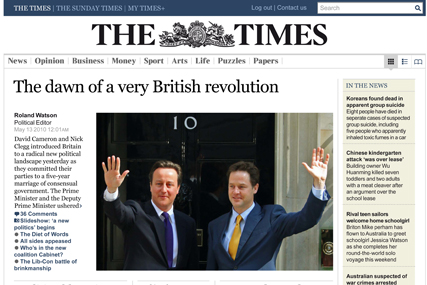 National press has had a year of circa 6% growth so far in 2010, which has been welcome after the trauma of 2009. It would be a brave forecaster to call much more than 2% growth in 2011, and we see that as the likeliest outcome.
For all the increase, the long-term trend is downwards. It seems that paper and ink is headed in one direction, to be superseded by a digital alternative. What model will work for advertisers and media owners under that scenario is still very far from clear.
News International bravely made the decision to put the digitised content from its journalists behind a paywall and Trinity Mirror has followed suit. The jury is still out on that: one suspects that there are just too many sources of similar content still gratis for it to be viable currently.
The quality press will lag behind the rest of the market in 2011. This too is a long-term trend.
£scc inflation/deflation 2011 by national press sector
Source: Billetts
Revenue change by quarter 2011
Source: Billetts

Another structural issue is in play: News International's attempt to shift its trading model from the age-old cost-per-single-column-centimetre to cost-per-thousand readers.
One will expect the range of traded demographs to be carefully chosen so as to cast News Group titles in a good light compared to Trinity Mirror's, and Times Media's compared to the Telegraph Group: this is an overt - if understandable – attempt to increase share.
As a general rule, it is preferable for the advertiser to trade in the audience, rather than the space. In cases where there is dynamic research like BARB, or in online, this shares risk.
If the viewership/readership declines, the cost of the space or time declines. We have no dynamic research in press, but the change does have the effect of forcing a trading focus onto what the advertiser really wants.
It also facilitates a longer-term ideal: of trading News International's assets across platforms, where audience trading is (or should be) the norm.
But it has big risks for News International. For one, the long-term trend of National Press CPTs is upwards – the loss of supply in readership has outstripped the languishing demand.
Most buyers will be relishing the chance to link year-on-year pricing to the declining readership trend.
News International's yields may well come down, even if the strategy is successful, as it finds itself printing more pages to accommodate the increased share gained from its competitors – and to satisfy the likely buyer demand for more page availability.
There is also the hurdle of persuading agencies to trade using NRS. The paradox of increasing readers-per-copy over time (in essence the divergence between ABC and NRS) might be enough to give agencies grounds for scepticism.
The readers per copy paradox - dailies
Source: NRS & ABC, July 2009 – June 2010 vs. July 2006 – June 2007, Adults
The readers per copy paradox - Sundays
Source: NRS & ABC, July 2009 – June 2010 vs. July 2006 – June 2007, Adults
Client action point

Ensure that – if your agency does switch to CPT trading – your value is preserved.
Magazines and Supplements
We predict that revenues in this area will be down 2%. The markets under most pressure will be women's titles, which having had a buoyant 2010 through entertainment, retail and FMCG sectors, will falter as those sectors come under their own pressures. Travel is another sector that we see reducing adspend here.
Quality free titles such as Sport and Shortlist will continue to thrive. The men's weekly sector has long been thought near death, but through this model there is a lease of life in 2011.
The sale of BBC Magazines will add negotiating clout to one of the major players, with obvious possible ramifications.
The celebrity sector, which is surely over-supplied and yet still manages to support all of its titles, offers fascinating possibilities. Richard Desmond's purchase of Five perhaps gives us a glimpse of the future. Both Five and OK! are significant players in their markets, whilst attracting little regulatory scrutiny under existing rules.
The new ownership is simple: there are no shareholding issues such as Sky and News International face. If we bring the Express titles into the mix too, we have the possibility of a transformational proposition. All the structure needs is a king-sized asset – an X-Factor, a Big Brother, a Dancing On Ice - and an online presence, and we can see immediately how an advertiser would be interested.
On Thursday we'll be looking in detail at the digital sector.
Tim Howett, head of press, UK media analytics, Billetts