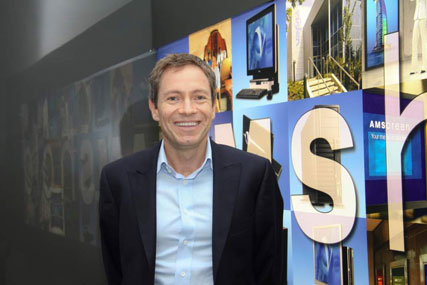 There is one person in the media industry who is watching series six of The Apprentice with an even closer interest than most.
That businessman is Simon Sugar, son of the infamous Sir Alan, who has employed two of the show's former contestants - Yasmina and Lee - at his digital signage company Amscreen, part of his father's privately owned Amshold empire.
Being a Sugar undoubtedly has its benefits, but Sir Alan made his oldest son put in just as many hours as anyone else before admitting him to the family firm. "Forget it," came the typically brusque reply when Simon graduated from Loughton College after completing his B.Tech in graphic design.
Instead, his father told him to go away and get some decent sales experience, which he duly gained over three years at Dixons Store Group, graduating through the ranks to assistant manager at Brent Cross.
Once the apprenticeship was over, Sugar joined Amstrad and spent 18 years learning his trade in the different parts of the business - from procurement to product management - until a near-disastrous product recall prompted the company to move from home computers into set-top boxes, and Amstrad was bought out by Sky.
Rupert Murdoch's £125m offer three years ago - "we were more and more in bed with Sky and it made sense for them to acquire us" - was the catalyst Sugar needed to launch a company of his own, as all good Apprentices eventually do.
His big idea - presented to Sir Alan, naturally - was to commercialise the wireless monitoring company of a vending machine technology business called Comtech by embedding that mobile technology into the back of digital advertising screens.
"I have always been interested in mobile signage, so we decided to build Comtech's mobile technology into the back of digital outdoor sites," says Sugar. "There is a computer with a mobile module under the hood of every screen, so all our sites are constantly monitored and we can stream live content."
Amscreen, as the two-year-old business was christened, pays for the installation of every site and gives the landlord about 20% of the airtime to run their own communications to their customers. In return, Amscreen has the right to sell the remainder of the advertising, under an exclusive five-year commercial deal.
Simon, 42, is the eldest of Sir Alan's three children, brother to Louise, 37, a housewife and Daniel, 39, who runs Amshold's property division Amsprop. He is more softly spoken than you might expect, almost to the point of shyness, and most comfortable talking about the business benefits of digital outdoor.
Speculate to accumulate
However, the financial targets for the privately owned company, which is not yet in profit, are very much off-limits. "We are still funding screen deployment," Sugar says. "It is speculate to accumulate: the more advertising screens we put in the ground, the more advertising revenue we will bring in. We are on an expansion plan but it is tough out there at the moment. We are a great believer in digital OOH and we feel we will be well-placed when the market comes back."
At the last count Amscreen has about 3,000 screens across the UK, split between petrol station forecourts, convenience stores, leisure and travel, with the overall network delivering 20.7 million audience impacts each week. It also operates a healthcare division, run by 2009 winner Yasmina Siadatan - although Sugar will have to make a new hire shortly as she is going on maternity leave next month.
Having been on the client side of the fence, Sugar knows the importance of accountability, and has spent the last 18 months "researching the hell out of everything" to prove the value of his sell to blue-chip advertisers. Amscreen monitors footfall, the numbers of transactions made each day and the times of day they are made. It has also conducted thousands of exit interviews and has enlisted French security firm QuVidi to carry out eyeball tracking using hidden cameras.
"When I was at Amstrad, we used to spend a lot of money advertising products on TV and in newspapers, and I always had a big problem with how much we spent," says Sugar. "We want to be the most accountable digital media owner out there. When a client spends money with us, we want to give them really good value."
Repeat advertisers include Red Bull, Amex, B&Q and Visa, while Sky is using the system "to its full potential" by booking different ads for different regions at specific times of day - Idiots Abroad takes a 6pm to 9pm drivetime slot, for instance.
"There is no wastage for our advertising," claims Sugar, who has struck a deal with TomTom to stream live traffic reports, and is in talks with national papers to advertise upcoming splashes and promotions. "Petrol stations are the perfect environment for newspapers. They can show the front page of each regional edition, targeted by postcode, and update headlines remotely. It is not all about advertising; we need a mix of content that is engaging and relevant to each location."
Sugar is aware Amscreen is small compared to Clear Channel, JCDecaux and Clear Channel, but confident Amscreen is "best in breed" in its niche - delivering digital signage solutions to the masses. The company has won three awards this month and the next step is replicating Amscreen's business model overseas, starting with Germany. "In digital screens, we are the largest in the UK. We are completely transparent and we want to transfer that consistency around the world."
Lord Sugar has not yet revealed which of his business interests the winner of the current series of The Apprentice will work at - Amscreen, Amsprop or PC supplier Learning Technology - and Simon Sugar "couldn't possibly say" which contestant will win 2010's main prize. But two years after launch and with a hat-trick of signage awards to its name, is it safe to say Sir Alan would have backed Amscreen as a business venture if it had been pitched on the show? "Yeah, I'm sure of it."
Hobbies: Tennis, football and running - Simon Sugar did the Royal Parks half-marathon in one hour 41 minutes and was in the top 800 out of 13,000 entrants
Lives: In Loughton, where he has spent his whole life
Football team: Season ticket holder for Spurs