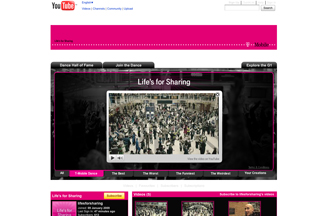 Google has axed search commission for agencies in favour of encouraging new advertising investment in video display, despite the fact that brands afflicted by the general economic gloom have been shifting marketing budgets away from online display into more accountable search and affiliate marketing campaigns.
The big strategic shift comes as no great surprise - reams of reports have highlighted Google's need to justify its $1.6bn gamble on video-sharing site YouTube.
Last October, Google's head of YouTube, Jonathan Gillespie, predicted that online video would be 'the next stage of evolution in the display market-place'. The search giant carefully laid the groundwork for a new ad sales offensive, announcing that it will offer incentives for agencies to try out video ads, and it was working with rich-media specialist Tangozebra, which it acquired as part of the DoubleClick deal, to develop new ad formats.
Google moved its plans forward swiftly running limited tests with brands. Last week, it unveiled a series of homepage ad offers on YouTube, including expandable click-to-play, masthead and 30-second auto-roll ads, available for exclusive 24-hour campaigns.
For Rhys Williams, founder of digital agency Agenda 21, Google's shift in strategy is evidence of the 'commercial challenge being laid out'. Nevertheless, advertisers have initially reacted positively to new ways of promoting their brands on YouTube.
Spencer McHugh, Orange UK's head of brand communications, describes the new ad opportunities as 'a natural evolution for YouTube'. He says: 'We are already active on the site with a branded channel page, but the new formats could work for a big homepage takeover launch campaign, such as for Orange Wednesday activity when we want high reach and impact.'
Google recently released research conducted with General Motors Europe, Motorola and MindShare claiming YouTube users are 1.5 times more attentive and engaged in advertising than TV viewers. With the YouTube homepage receiving more than 6m views a day, Google's head of agencies, Bruce Daisley, says: 'These are audiences comparable with the best-performing TV shows.'
However, brands are in no hurry to ditch TV campaigns to put all their eggs in one online basket and McHugh admits that the YouTube offering is not an alternative to TV spots. 'Online is no longer an experimental part of the marketing budget,' says Andrew Warner, marketing director of LG Electronics UK. 'It can be more effective than TV at reaching young professionals who are travelling and working late, but TV is still the most effective way of reaching large audiences in a short time.'
Roadblocks, hurdles and barriers
While homepage takeover campaigns were popular a couple of years ago for car manufacturers and electronics companies trying to change brand perception or create a buzz around a product, Warner argues that 'road-block' executions can deter consumers. 'People see ads that open up across the page as intrusive if they go back to a site more than once,' he says.
Furthermore, YouTube users often arrive via links to particular videos, not the homepage. George Nimeh, managing director of Iris Digital, claims that brands' creative video content, such as T-Mobile's 'Dance' ad, which has been an online hit, could be a better way of engaging consumers than paid-for homepage ads, 'especially when this year it is all about performance-for-pound'.
The new YouTube formats' cost of tens of thousands of pounds a day is bound to be a barrier for advertisers who want more for their money than a 24-hour hit. McCann Erickson's digital account director, Dan Brown, says an advertiser such as Xbox would prefer to advertise on gaming sites as they provide targeted impact for longer. He adds that the YouTube homepage is 'not that great' when compared with MSN, Yahoo! and newspaper websites.
However, Google's ratecard is likely to become more competitive over time. The important thing for now, agencies insist, is that YouTube is helping to create traction in the online ad market while it remains in healthier shape than other media.