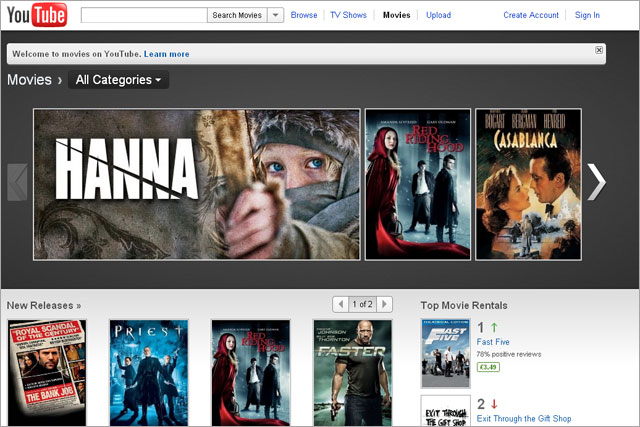 The library includes 'The Dark Knight' and 'Reservoir Dogs', as well as new releases such as 'Red Riding Hood'.
Banksy documentary 'Exit Through The Gift Shop', for example, costs £2.49 for a 48-hour viewing window.
The Google-owned video site launched the service in the US in May and rolled it out in Canada last month.
Many movie pages also feature YouTube Movie Extras with free behind-the-scenes videos, cast interviews, parodies, clips and remixes from YouTube's community.
The move comes in the same week that both YouTube and Amazon-owned LoveFilm revealed they would soon be expanding onto the Xbox 360, and as the Competition Commission considers intervening in the market for movie rights for the first subscription pay-TV window.
The commission provisionally ruled in August that Sky's exclusive hold on these rights for all six Hollywood studios contributed to a lack of effective competition, and has consulted on various courses of action.
Follow @danfareyjones on Twitter