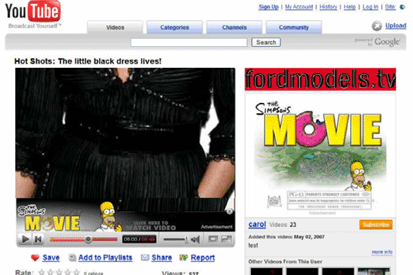 Promoted videos combine YouTube and AdWords, letting advertisers place video ads alongside relevant content across the Google Content Network by bidding on keywords.

Pricing is based on performance, and advertisers will also benefit from free clickable overlay ads, which will help drive traffic to a branded website. When users search for videos, YouTube will display the advertisers' videos alongside relevant search results and partner watch pages.

Although Google already offers video ad through AdSense, taking YouTube advertising to the wider internet will increase its reach and could make it more appealing to advertisers.

In August statistics from Compete.com revealed YouTube traffic had become the fourth most popular destination on the web after Google, Yahoo! and Facebook.
The on-going growth of YouTube is good news for advertisers as the site continues to add brand friendly features in an effort to monetise the service.
In July YouTube announced it is trialling technology that will allow content partners to serve their own ads into video clips on the site, in a move that could open the floodgates to big-brand campaigns.
YouTube has also recently allowed content providers including Sony Pictures and ESPN to place their own video players on the site, enabling them to insert their own ads and attribute the traffic to their own networks.