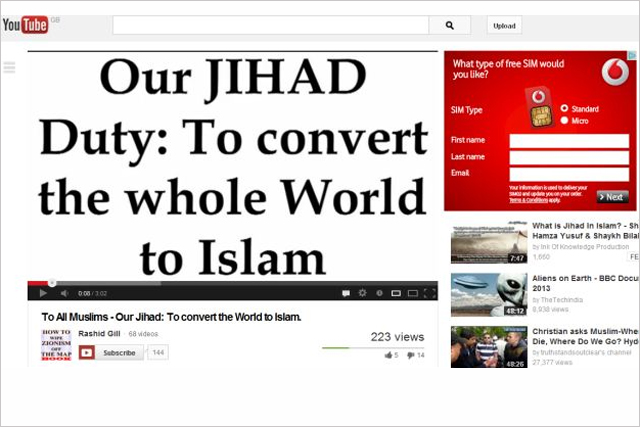 The Daily Mail has slammed Google for profiting from extremist videos following claims the newspaper has unearthed ads from brands including Vodafone, TalkTalk and Apple running alongside "vile terror videos".
The ad for Vodafone appeared alongside a clip of Anwar al-Awlaki, a former leader of terrorist group Al Qaeda, describing how "Islam is spread by the sword", according to the Daily Mail.
A Vodafone UK spokesperson said: "We were unaware of this situation and are understandably concerned that our advertising should appear alongside this sort of content. We will be investigating how it happened."
The news comes after The Daily Telegraph reported that Home Secretary Theresa May has indicated Google and other internet sites could be forced to take more responsibility for blocking extremist content.
May claimed there was "no doubt" young people were being radicalised by material on the internet and said the Government was now considering what could be done to stop extremist material being accessed from people's homes.
A YouTube spokeswoman said: "We take the safety of our users very seriously and have a zero tolerance policy towards content that incites violence.
"Our community guidelines prohibit such content and our review teams respond to flagged videos around the clock, routinely removing videos that contain hate speech or incitement to commit violent acts.
"We also have stringent guidelines regarding advertising on the site, and we may choose to stop placing ads against any video or channel if we determine that the content is not appropriate for our advertising partners."