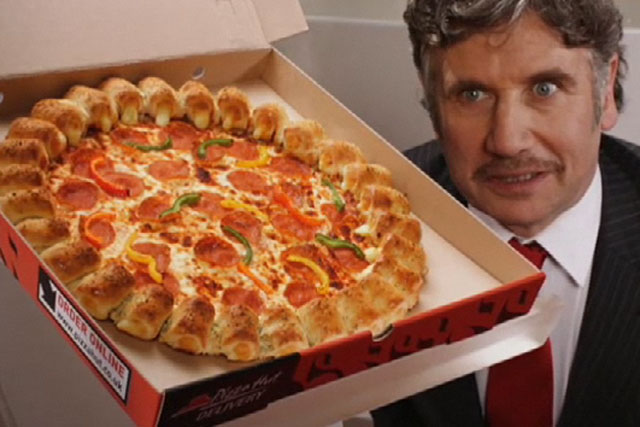 The disclosure was made in the fast food company's latest quarterly results, which revealed it had taken a $76m (£50m) impairment charge on its UK Pizza Hut business ahead of its hoped refranchising of the business.
Yum! is looking for a company to run the 700-strong restaurant chain and operate it as a "master franchisee", which could be re-franchised to others.
The majority of Yum! businesses, around 80%, are already run as franchises.
The move to put the sale sign up above Pizza Hut comes five years after Yum! took full control of the business. The company paid £112m for the 50% of the business held by Whitbred.
Pizza Hut has faced increased competition on the nation's high streets, from the likes of Domino's, rival chains, and more upmarket offerings.
A spokesperson for Yum! Restaurants International said: "Consistent with its strategy of focusing on high growth, high return markets, Yum! Brands has decided to refranchise its entire Pizza Hut UK business and is seeking a single buyer to purchase its company-owned restaurants and to serve as a master franchisee for the market.
"The UK market is well developed and will benefit from a strong, growth-oriented partner. Pizza Hut ranks as the UK's favourite pizza and recently launched a re-branding campaign that has resulted in increased transactions and sales."
Its financial results show that KFC's UK system sales grew 5% for the quarter and year to date, while Pizza Hut UK system sales grew 5% for the quarter and declined 3% year to date.